Jess is gunning for Commonwealth Games glory
Date published: 02 February 2018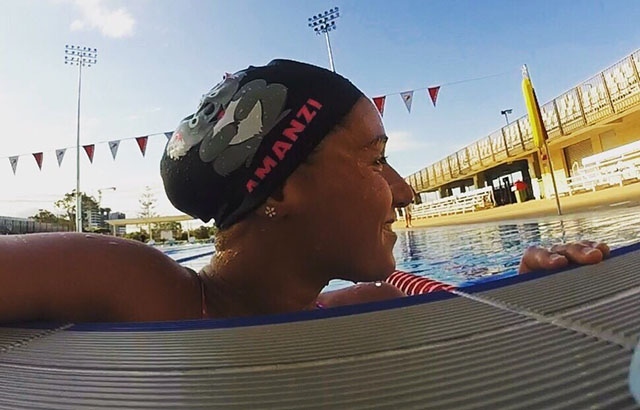 Oldham's Jess Fullalove is preparing to represent England at the Commonwealth Games in Australia
Oldham's super swimmer Jess Fullalove can't wait to head off Down Under next month as she bids for Commonwealth Games medal glory.

Former Oldham Hulme school pupil Fullalove, now 21, has been called up to represent Team England at the showpiece event, which this year takes place at Australia's Gold Coast between April 4 and 15.

Backstroke specialist Fullalove – a former Summer Youth Olympian who now trains at one of two national training centres in Bath - will definitely be going for gold in the 100m event, while it's still undecided whether she could also bid get the thumbs-up to go for glory in the 200m and relay disciplines.

She is hoping that the overall experience she enjoyed at the previous Commonwealth Games – at Glasgow in 2014 – will stand her in good stead as she prepares for what promises to be another wonderful opportunity to showcase her huge talent in the water.

Although Fullalove didn't win a medal in Glasgow, it was a Games she'll always cherish as she also celebrated her 18th birthday while the showpiece event was taking place.

She is confident she can do better during her second stab at major tournament glory.

Fullalove said: "It's going to be amazing. I went to Australia for the first time in November for training, and I absolutely loved it.

"I'm so excited to be going back, it is an amazing place.

"The lifestyle and everything appeals to me, so to be going back there to represent England will be amazing.

"I'm sure it will be slightly different to the Games in Glasgow. That's not just because of the place obviously, but I am that bit older now, I'm much stronger.

"Hopefully I can get myself into contention for finals this time, hopefully the experience I've got under my belt will help.

"I'll be much more aware this time. I'm not going to be getting excited when I see someone famous in the dinner hall or whatever.

"I'm going to just keep my cool, I know what I'm doing, so I'm just going to enjoy it really."

Fullalove earned her Team England place after successful trials in December.

She reckons she can mix it with the best second time around, though clearly it won't be easy.

"The backstroke events are quite tough, they're very well stacked out," added Fullalove.

"The Australians and the Canadians will be strong, and of the course because Great Britain is split into individual nations there will be lots of competition.

"I just missed out on the finals in Glasgow, but if I can do that this time and get in a good lane, then I can push for a medal.

"It is a bit of an unknown, you could all swim the same time, but it's just about whether you get your hand on the wall first.

"It is a difficult event, but so far it's looking good and I do want to do better than I did in Glasgow.

"I should do now, four years on. I'm stronger, fitter and I've been in a different training environment. Fingers crossed."

Team England leader Grant Robins added: "I believe we've got a blend of experienced athletes and some new younger swimmers in our team.

"This is what the selection policy was designed to achieve.

"We had a great National Winter Championships in Sheffield recently and it's looking good for the Gold Coast.

"Hopefully by the end of the six days of competition in Australia we will have a few medals in the bag, personal best times achieved and lots of great experiences gained ready for the road ahead."

The BBC will be broadcasting extensively from the Commonwealth Games in April, across all platforms.