Chaddy girls see off Tameside United
Date published: 19 February 2018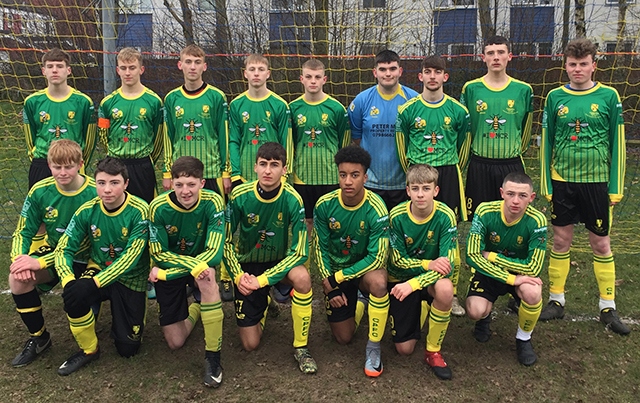 Chadderton Park under-17s Eagles lost at AFC Stanley
JUNIOR FOOTBALL: Chadderton Park under-13s Girls enjoyed a fantastic 5-2 win at home to Tameside United in the North Manchester Girls' League.
Anna Keeling opening the scoring for Chaddy Park with a cracking left foot shot.
Just before half time it was 2-0 when Poppy Moorhouse scored from just outside the box.
Tameside made a few changes at half time and were rewarded when they made it 2-1 just after the restart.
Jenna Ford made it 3-1 following a fantastic run into the box.
A lapse in concentration from Chaddy Park saw Tameside make it 3-2.
However, Park continued to play some good football and Moorhouse fired past the despairing Tameside keeper to make it 4-2.
Keeling produced a fine finish to make it 5-2.
Tameside Saturday League
Chadderton Park's under-17s Eagles suffered a disappointing 6-1 defeat away at AFC Stanley.
However, the scoreline doesn't reflect the hard work the Eagles put into the game, and the chances they failed to take were punished.
Niall Webb on target for the Eagles.
Tameside Sunday League
Park's under-18s Lions slipped to a 3-2 defeat at home to league leaders Whitworth Park in what proved to be a feisty but fair encounter.
The Lions' goals came from Harry Woor and Ben Hamlin.
East Manchester Junior League - Saturday
Chadderton Park under-14s Dragons tasted defeat for the first time in more than two years after they lost 3-2 at SK Olympic.
The Dragons took a deserved first half lead through Abdullah Cheema.
Early in the second half the Dragons had a chance to make it 2-0 but Saja Manafa's . But a 10 minute spell saw SK Olympic go 3-1 up. Abdullah Cheema got his second of the game to make it 3-2 and in the dying moments of the game the Dragons were awarded a free kick but the ball was cleared for a corner and the final whistle blew to signal the end of excellent unbeaten run.