Chaddy bag first win of 2018 in some style
Date published: 19 February 2018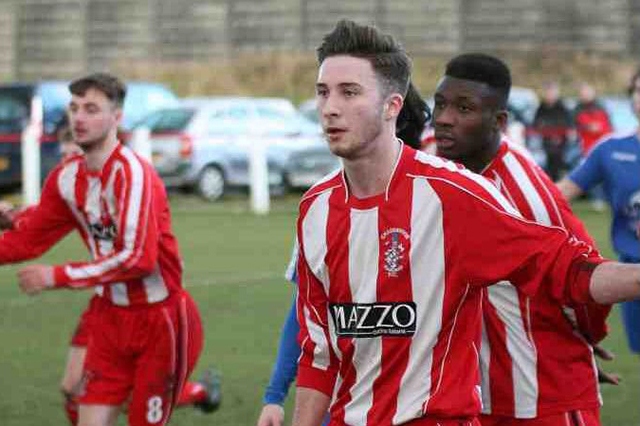 Chadderton's youngsters were in great form against St Helens Pic courtesy of @Chaddertonfc
Non-league football by Ryan Booth
Chadderton claimed their first victory of 2018 after a dominant performance ensured they ran out 4-0 winners over St Helens Town at the ARK Fleetech Stadium.
Goals from Liam Eadsforth, Reece Lyndon, Jack Turnbull and Ryan Shenton ensured David Fish's side earned their first points of the year, after a series of postponements had previously disrupted Chaddy's schedule.
Prior to the game, the Broadway-based outfit had seen four of their last five fixtures fall foul to the weather and the win over Town could prove to be pivotal in Chadderton's bid to avoid relegation from the First Division of the Hallmark Security League.
The Reds now lie 17th in the league table, seven points clear of the relegation places.
Remarkably, manager Fish included seven homegrown players in the matchday squad that triumphed over the Saints, an outstanding feat at any level.
Along with goal-scorer Eadsforth, Devon Matthews, Jack Snape, Richard Akoto and Leon Iluobe all started the game, while Jack Ward and Joe Richards were both amongst the substitutes.
Club chairman Bob Sopel took to Twitter to express his delight at the progress of the club's latest development pathway.
He said: "It's great to see so much talent coming through our new club structure - it's a great incentive for all our junior players."
Chadderton face a tough test when they travel to Abbey Hulton United tomorrow evening. Kick-off is at 7:45pm at Birches Head Road.
Elsewhere, Mossley succumbed to a defeat in the Evo-Stik North First Division.
Jamie McLellan's strike was a mere consolation for the Lilywhites as a hat-trick from Jordan Cover ensured Atherton Collieries emerged as 3-1 winners at Alder House.
Co-managers Peter Band and Lloyd Morrison will hope their side can return to winning ways when Mossley welcome Clitheroe to Seel Park this Saturday (3pm).