Tommy storms to second British title victory
Date published: 21 February 2018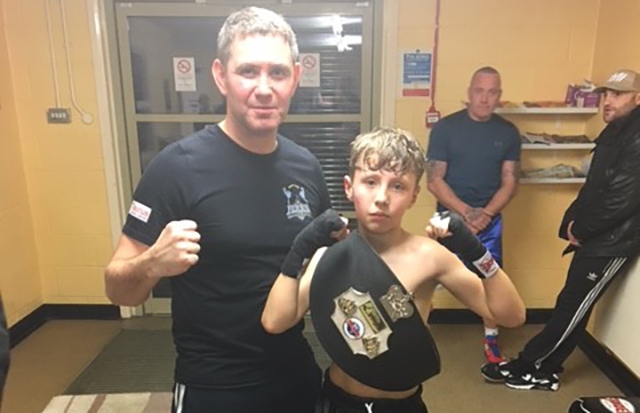 Tommy Lowe with his trainer at the Isaan Gym, Steve Donnelly
Five years of hard work in training are certainly starting to pay off for Thai Boxing starlet Tommy Lowe.
Waterhead Academy student Tommy (11), from Greenacres, has just won his second British title – this time the ISKA version for his age group.
He defeated tough opponent Raza from the All Powers Gym in Stockport in front of a packed crowd at the Pakistani Community Centre in Glodwick.
A product of the Isaan Gym on Temple Street in Oldham, Tommy is trained by head coach Steve Donnelly.
Steve said: "Tommy put in a great performance.
"He's been boxing since he was six and now he's won two British titles and an English area title.
"The event at the PCC was a huge success. It was really well supported by Muay Thai gyms from across the UK and the communities of Oldham."
The Isaan Gym regularly welcomes upwards of 50 Thai boxing hopefuls from the age of three to 14 or 15.