Lilywhites launch Seel Park funding bid
Date published: 02 March 2018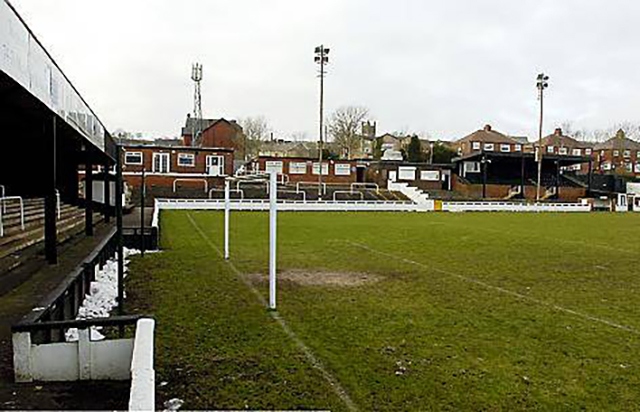 Mossley's Seel Park stadium needs upgrading
by Ryan Booth
Mossley AFC have launched an online community fund scheme with the hope of raising £18,000 to make significant ground improvements at their Seel Park home.
The Lilywhites require the substantial sum in order to ensure the facility meets Northern Premier League requirements, failure to do so could potentially see Mossley being denied entry into the league next season.
Mossley also hope complete the work in a bid to offer the local community a hub for social and leisure activities.
Committee member Matthew Hayton, who has organised the scheme, said: "Our aim is to deliver a better experience for the local community.
"This is about more than football and we're more than a football club.
"We feel we're a community asset, we want people to be proud of and relate to the club for as many reasons as possible.
"We want Seel Park being used every day and we want to make a difference."
The project has been set up in order to undergo major refurbishment work at the club's outdated home.
Mossley have been based at Seel Park since 1912 and while the ground offers one of the finest views [a stunning backdrop of the Pennines] in football, a significant upgrade is evidently required.
Hayton added: "Our first goal is to resurface the driveway into Seel Park.
"We've a duty to provide a better experience for all supporters, including disabled supporters, and for members of our Monday Club too.
"After that, it's about creating a better environment for everyone who uses Seel Park, be that all the teams we run or the groups we host. Everyone deserves better facilities."
Alongside the resurfacing work, Mossley hope to substantially improve the club's current changing rooms - this includes replacing the existing roofing in order to meet NPL regulations.
While the £18,000 target is somewhat ambitious, Hayton believes the figure is more than achievable if the spirited Mossley community comes to the club's aid.
He added: "We know the top target of £18,000 is ambitious, but we believe we'll reach it thanks to the backing of not only our extremely loyal supporters, but because we're doing something that benefits the local community.
"The people of Mossley are very proud of their town and we hope they rally to our cause.
"If they do, everyone will benefit from a true community asset."
The Lilywhites have set up a reward scheme to demonstrate their gratitude towards any potential contributor.
Hayton continued: "We've set up a number of rewards to say thank you, including scarves, pin badges and special events.
"Beyond that, everyone has access to the new facilities we'll offer."
Mossley have undertaken numerous community and charity schemes throughout the year, the club have particularly forged a close relationship with local homeless charity Emmaus.
The partnership has seen the club donate match-worn strips and shin-pads to the group's 5-a-side team alongside a general food collection, whilst Emmaus have deployed match-day volunteers at Seel Park in return.
"This isn't about making money, it's about making a difference," said Hayton.
"We're not a typical football club - we truly feel part of the community and want to help the people of Mossley."
On the field, Mossley have endured an inconsistent season thus far.
Peter Band and Lloyd Morrison's side currently lie 15th in the Evo-Stik NPL North table and have struggled on their travels throughout the campaign.
However, Hayton stresses that the club's latest project is much bigger than the club's progress on the field.
He said: "This is an integral part of remaining a focal point for the town.
"You don't have to like football to want to see better facilities in Mossley.
The people in our town deserve better and we're trying to provide something for them. Together we feel we can do it."
In order to make a donation to the project, the fund can be accessed at the following link: https://zohero.com/fundraisers/mossleyafc/