Aaron and Ryan continue to make terrific progress on the green baize
Reporter: Simon Smedley
Date published: 16 March 2018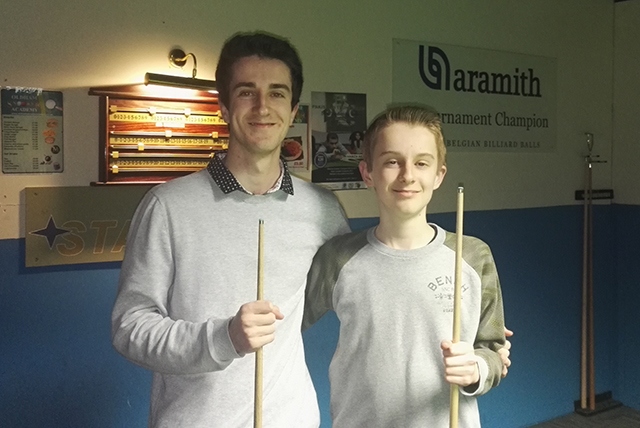 Talented potting siblings Aaron (left) and Ryan Davies
Scroll down for Video
Whizzkid potting siblings Aaron and Ryan Davies continue to weave their magic on the green baize.
Elder brother Aaron (now 20) continues to make waves in the pool – the eight-ball version that is.
He recently formed part of the England men's team which triumphed at the 2018 European Championships in Malta.
Manchester university student Aaron now heads to compete in the WEPF World Championship tournament, which takes place at the Imperial Hotel in Blackpool, between June 20-29.
Despite continuing his studies at Newman College in Chadderton, Aaron's younger brother Ryan (15) is enjoying a terrific snooker season.
He recently progressed through qualifying to reach the English under-16s championship final.
The final takes place in Gloucester in June, when Ryan – who has a top competition break of 130 despite his tender years – will take on southern-based Bradley Cowdroy.
Before that, however, Ryan competes at the last 16 stage of the English under-21s championships in Leeds in April.
Ryan and Aaron's proud dad Martin said: "Both lads are doing really well at present.
"Aaron is in his last year at university now, so it can be difficult to fit everything in at times, but pool is definitely his game and he's enjoyed a lot of success.
"Ryan is definitely on the right track with his snooker.
"He's busy studying for his exams in May, but after that we hope he can really go for it.
"After his exams he'll have more time to practise and that can only be a good thing if he is able to go on and carve out a career in the game."
As Martin starts to plot Ryan's path after his exams are over, he is already seek potential future sponsors.
If you, or your business, may be in a position to help, call Martin on 07724 684457.
The talented duo continue to practise regularly at the Oldham Snooker Academy, which is based inside the Osborne Mill on Waddington Street.
Watch our video as Aaron and Ryan look ahead to what promises to be a hectic Spring and Summer.
Aaron and Ryan Davies talk about their upcoming tournament action