Six days of hard graft pays off
Date published: 09 May 2018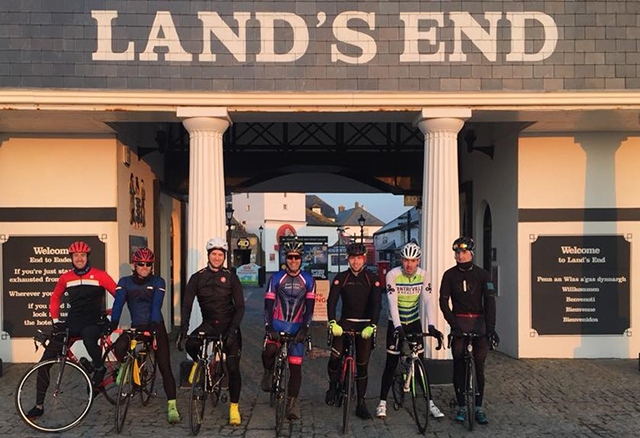 Andy Gorton, Sam Wilson, Matt Jackson, Kamil Waligora, Leighn Chambers, Ben Whitehead and Pete Reid pictured at Lands End
Cycling
Distance riding was the name of the game last week for some East Lancs Road Club members.
Andy Gorton has organised several long distance rides over the last few years, such as France 'end to end' and Spain 'end to end', but this year it was closer to home as he and his intrepid group tackled Lands End to John O Groats.
The ride was 880 miles and 35,000 ft of climbing to be undertaken in six days.
The stages worked as follows: Stage 1, 151 miles Lands End to Taunton; Stage 2, 186 miles Taunton to Tarporley; Stage 3, 141 miles Tarporley to Carlisle; Stage 4, 111 miles Carlisle to Dumbarton; Stage 5, 152 miles Dumbarton to Inverness; Stage 6, 122 miles Inverness to John O Groats.
The local riders who completed the challenge were Gorton, Sam Wilson, Matt Jackson, Kamil Waligora, Leighn Chambers, Ben Whitehead and Pete Reid, who were all incredibly shattered but elated having successfully completed this marathon ride.
Gorton already has plans for next year which is an incredible 'end to end' ride through Italy, so if anyone is interested, start training now.
Closer to home, last Sunday was the club's 100 mile Reliability Ride, to be completed in eight hours.
A group of eight riders successfully completed the ride in glorious weather, starting at Rochdale and going to Blackburn, Longridge, through the Forest of Bowland to Hellifield, Otterburn, Gargrave, Thornton in Craven, Colne, Todmorden and back to Rochdale.
Racing activities were a little limited, but Dave Ireland took part in the Dukinfield CC 50-mile time-trial.
This event was held on the J4/16 course where the riders do three laps of a circuit around Jodrell Bank.
Ireland completed ride his in 2 hrs, 17:04mins.
Finally the unluckiest person in the club last week had to be Anna Weaver.
She was the first East Lancs member to be picked to ride in the Women's Tour de Yorkshire and having trained hard was looking forward to riding in this great event.
Lady luck conspired against her, however, and she was hit by one of the motorcycle outriders and knocked off and out of the race after only 20 miles of stage one.
She was not seriously hurt and all club members hope she has another chance and better luck next year.