Green flies round Spring Road Race
Date published: 23 May 2018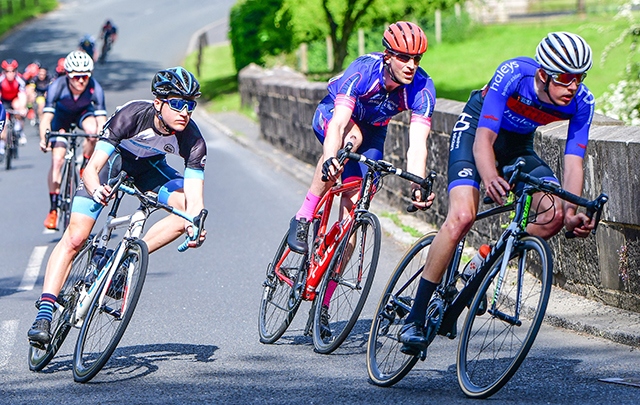 Action from the East Lancs Spring Road Race. Picture by Ellen Isherwood
The East Lancs Road Club's annual Spring Road Race was staged on a course in the Forest of Bowland.
The race was held on the long Bashall Eaves course, which is a challenging 11-mile circuit starting at Bashall Eaves, before climbing to Cow Ark then taking a rapid descent towards Chipping, over the Doeford Bridge, and returning through Chaigley over the Hodder Bridge to finish at Bashall.
The East Lancs team included seniors Chris Green, Matt Jackson, Paul Ashworth and Alex Wiseman, and junior riders Jack Millar, Joe Cooke and Oliver Bentley.
They endured mixed fortunes between them.
The pace on lap one of the five-lap race was frantic from the off and it resulted in the bunch being broken up on the first climb of the day to Cow Ark.
As a consequence, the East Lancs riders had mixed fortunes with Jack, Alex and Joe having a variety of mishaps and not finishing.
However, the remaining four riders all completed the 55-mile race, with Green the club's highest placed rider claiming eighth and highest place second Cat rider.
Matt Jackson finished 11th while winning the second lap Prime; Oliver Bentley was 31st and winner of the highest place fourth Cat rider; and finally Paul Ashworth, who rode around with his brother, rolled in 37th out of the field of 60 riders.
The race was won by Hadyn Allen riding for THRE Datawolves RT, who solo rode to victory on the last lap for a fine win.
Meanwhile, the Racing Chance Foundation organised their 25-mile time-trial on the J2/9 course in Cheshire.
The weather conditions were excellent and three East Lancs riders took part, with each of them recording their personal best performances on the course.
The times recorded were: Roy Nield, 59:22mins; Karen Bailey, 1hr:08:45mins, and David Ireland, 1hr:03:16 mins.