Chronicle Cup debut joy for Louise
Date published: 25 May 2018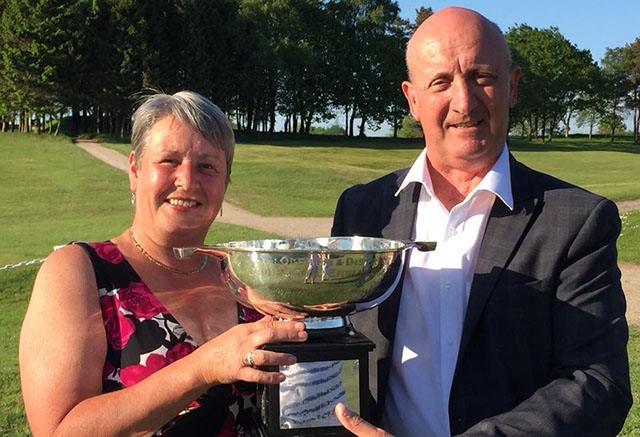 Chronicle Cup winner Louise Hinchliffe with David Whaley, secretary of the Oldham and District Golf Society
Golf round-up
Former swimming coach Louise Hinchliffe made a big splash by taking the top prize on her Chronicle Cup debut.
The 58-year-old from Greenfield shot a two under nett 70 at Crompton and Royton to pip fellow Saddleworth member Kaye Orme by a shot.
Louise, who has played tennis, squash and hockey in her formative years, had not played golf since she was ten and took up the game again last year having retired from her Oldham swimming teacher role.
She has come down to 25 handicap and continued her good form with a steady performance on a warm and windy day when the quick greens and tough rough sent the scores soaring.
Louise said: "I am delighted to win this most prestigious competition.
"All the competitors are very grateful to the Revolution, the Chronicle's new owners, for their continued support."
Louise has been playing with a set of her mother's clubs that were sitting unused in the garage and she was thrilled to be able to ring her golfing parents to tell them the good news.
Former winner Orme was surprised to be second as she expected someone to go low after she recorded an impressive 77-6-71 return in the first group of the day.
She said: "I got it going and was one-under gross at the turn but los t the greens on the back nine and frittered away shots.
"I really thought that 71 would be several shots back, but the wind clearly played its part in pushing up the scores."
The competition's two youngest players picked up the other two main prizes.
Emily Halstead (C&R) claimed third place with the 12-year-old Hollingworth High pupil shooting a level par 100-28-72 whilst 17-year-old Hopwood Hall College student Corina Teirney (C&R) won the best gross prize with an 85.
The Centenary Plate, presented to the club with the lowest four-player total, went to the C&R quartet of Emily Halstead, Noreen Nicholson, Maraget Hornby and Carina Teirney..
The nine-hole afternoon greensome prize was won by Sheila Parkinson and Jennifer Sykes (56-15.7-40.3).
The Chronicle Cup was presented by David Whaley, secretary of the Oldham and District Golf Society and former Managing Editor at the Chronicle, while C&R Captain Dave Harris praised all the players in welcoming them to the High Barn club.
Meanwhile, Werneth 'A' captain Chris Cordwell holed tough putts at both the 18th and 19th holes at Oldham to keep his team in the Oldham and District Golf League cup competition.
But with the scores level at 2-2 his deciding bottom match clash with North Manchester fellow captain Paul Keogh had to come to a halt after halving the 21st in near total darkness after 10pm.
The fourball will return to complete the match next Wednesday.
Paul Donlan was the toast of Oldham 'B' when he birdied the first extra hole to give his side a 3-2 success over Werneth at Blackley where Tony McNamara and Terry Walsh had given Werneth real hope when they came from four down with six to play to win on the last green.
And spare a thought for Werneth club vice captain Hugh Adams.
He was two down and won the 17th, but lost on the last in the 'B' team defeat and then repeated the last-green agony when he answered a last-minute call to play for the 'A' team the following night.
First round results
A Cup
North Manchester 2, Werneth 2 (@Oldham) bad light stopped play.
Saddleworth 2, C&R 3 (@Brookdale)
Oldham 1, Ashton 4 (@C&R)
B Cup
Saddleworth 1, Ashton 4 (@ Werneth)
Werneth 2, Oldham 3 (@Blackley)
Stamford 2, Dukinfield 3 (@Denton)
Blackley 2, North Manchester 3 (@Castle Hawk)
Second round draws
A Cup
Denton v North Manchester or Werneth (@Brookdale).
Dukinfield v Blackley (@Denton)
Stamford v Brookdale (@Blackley)
Ashton v C&R (@Dukinfield)
B Cup
C&R v Ashton (@North Manchester)
Denton v Dukinfield (@Ashton)
Brookdale v Oldham (@C&R)
Castle Hawk v North Manchester (@Saddleworth)