Tommy shines in Barnsley
Date published: 29 May 2018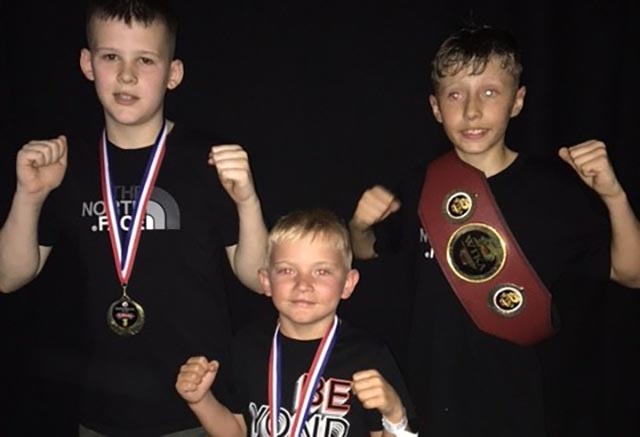 Isaan Gym fighters Tommy Lowe, Connor Shaw and Adam Parry
Muay Thai Boxing
Three Oldham hopefuls from the Isaan Gym shone at the Yokkoa Next Generation event, which was staged at the Barnsley Metrodome.
Yokkoa is the biggest stage for junior Muay Thai fighters, and Tommy Lowe (aged 11) led the way for Oldham as he won the WTKA British title after he defeated the highest-rated Louis Fairhurst from Peel.
This takes Tommy's record to five wins from five fights this year.
It was also his third championship belt triumph.
Adam 'The Adder' Parry, who is seven years old, competed in his third fight.
He put on a great performance but lost a points decision to Alfie from WHMT.
Twelve-year-old Connor Shaw then put on a super show as he won a points decision against James from Alliance Muay Thai in Liverpool.
Connor has worked like a Trojan in the gym, and his coach Stephen Donnelly said: "I'm over the moon for him.
"Actually I'm very proud of all the Isaan fighters.
"We have some serious talent coming through the ranks."