Hawks are flying high
Date published: 04 June 2018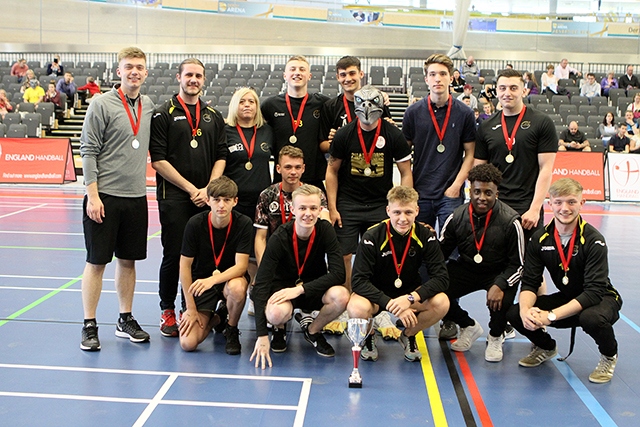 The NEM Hawks boys' team - under-19 national champions in 2017 and silver medalists in 2018
In a corner of north east Manchester, NEM Hawks handball club is establishing a dynasty of talented young British players – many of whom appear destined for the top.
Hawks was established in 2010 by Donna Hankinson who, along with Sue Whitehead, has built one of the top clubs in the country.
Many of its players - male and female - are from Oldham.
Handball is a fast-growing sport. In just 12 months between the autumn of 2016 and 2017 the number of teams increased by 50, up by 26%.
The north-west in particular is one of the hot-beds of handball.
Its popularity is not surprising. It is an exciting, high scoring, action-packed team sport that can be played for fun or competitively.
Harry Morley, aged 20, is a British prospect who plays age-group handball for GB.
He is now pushing for senior selection having been the top goal scorer in the Premier Handball League [then called Super-8] last season.
Morley, who was in Sheffield Wednesday's academy as a talented footballer from the age of 6 until 14, explained the attraction of the sport.
He said: "I like how fast it is, I like the physical side of it, I like the competition.
"I don't really function well without competition and pressure in my life.
"I get to travel a lot with handball and I like the speed and physicality of it and the challenge.
"I was playing senior level for the club from the age of 16 which was a big challenge."
Morley laughs that it's a lot more physical than football.
He added: "I've had more injuries playing handball for five years than I did playing football for 10!
"I come away every week with some sort of bruise."
Club-mate Paige Schofield agrees that it's the speed of handball that makes it so addictive.
She said: "It's the hype of the sport! There's contact, but it's not too physical, and I like the social side and meeting new people, and it gives you a real buzz!
"The matches are really, really fast. It keeps you on your toes."
Schofield came into handball having played netball at school and is now playing for the GB under-17s.
She added: "I played netball for eight years and then quit netball to play handball."
So what are Hawks doing to create such a production line of talented handball players?
According to GB Under-20 player Charlie Fletcher it's about the culture of the club.
Charlie, who has been at Hawks since he was 15, like all the players at Hawks, credit head coach Donna Hankinson – a former BT Coach of the Year.
"A lot of it's down to Donna, she's an unbelievable coach, and the environment that's been created – it's something special" said Fletcher.