Medals galore for Siam Muay Thai
Date published: 28 June 2018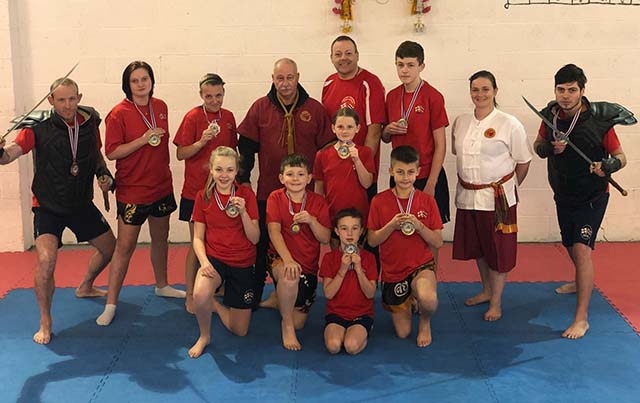 Siam Muay Thai Camp members at the third International and Thai Martial Arts Games and Festival
A donation from a regional housebuilder helped members of an Oldham martial arts organisation put their skills to the test in an international tournament.
Persimmon Homes North West donated £500 to the Siam Muay Thai Camp through its match-funded Community Champions scheme.
Youngsters who train with Siam Camp, based on Fitton Hill Road, were selected to represent England in the third International and Thai Martial Arts Games and Festival.
Spokesman Christopher Ferris said: "We were honoured to be part of such an incredible competition in Bangkok and thank Persimmon Homes for its support.
"As it is an amateur sport, the families have to fund the trip themselves, so we help by organising fundraisers, such as car boot sales, bag packing, raffles and sponsored events."
Muay Thai is the national form of martial art of Thailand.
It is a martial art of fighting with elbows, knees, feet and bare fists as weapons.
It is a tradition to arrange Muay Thai matches in various festivals.
Nowadays, it is well known worldwide and various clubs have been established to promote and teach Muay Thai in many countries.
"Our youngsters worked hard and enjoyed great success at the games and we are already preparing for next year's event," added Mr Ferris.
At the Festival in Bangkok, Thailand Siam Camp secured an amazing seven gold, five silver and two bronze medals.
The overall total for the England team was nine gold, five silver and three bronze from the Muay Boran and Dab Thai and UBF Boxing.
Dave Hodgson, sales and marketing director for Persimmon Homes North West, said: "We were delighted to support Siam Camp in this way.
"The Community Champions initiative was established to support the volunteers, charities and organisations that make life better for everyone.
"We would also urge anyone who was unsuccessful last month with their Community Champions application, to visit the Persimmon Homes website and to try again."
To nominate and to find out about the terms and conditions people can visit: www.persimmonhomes.com/charity