'Challenging' rehab keeps White out of World Cup
Date published: 05 July 2018
Oldham's Olympic star Nicola White in action
Olympic gold medal-winning hockey star Nicola White has spoken of her frustration after missing out on England team selection for the forthcoming Vitality Hockey Women's World Cup on home soil in London.
The nation's 18-strong squad will compete against the world's best women's teams between July 21 and August 5, but Oldham star White has been forced to withdraw from contention as she continues her recovery from the concussion she suffered earlier in the year.
.Expressing her massive disappointment, White said: "Unfortunately, this isn't the news I wanted to be sharing about the forthcoming World Cup in London.
"I am still very much on the road to recovery after sustaining a concussion just over four months ago, prior to the Commonwealth Games.
"Though is has been a while, it is a challenging rehab which is still ongoing and therefore I was unable to be fit for selection. I was really hoping that I would be back in time for such an incredibly special event, so it has been a very difficult situation to take in and come to terms with.
"This year, 2018, both the Commonwealth Games and World Cup were a huge part of my decision to return to international hockey after Rio and my time off.
"It wasn't an easy decision to make as I fully understand what being part of the GB Hockey programme entails and the commitment it needs, so my heart was set on making myself as good I could be for what was to be an exciting time for hockey in this country.
"I have very fond memories of playing in London. Winning bronze at London 2012 was totally overwhelming and winning European gold in 2015 was a career highlight for many of the team.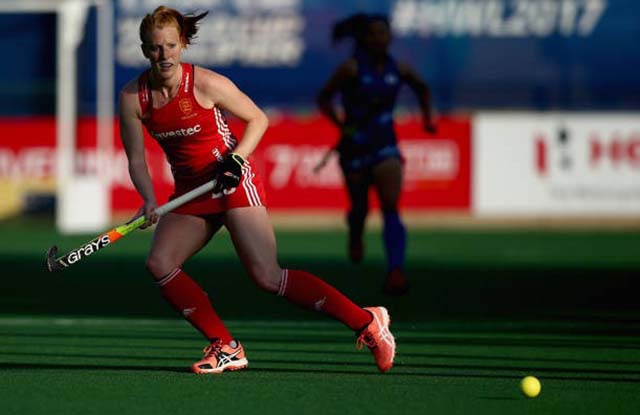 "Hosting the World Cup for the first time is so special and it would have absolutely been up there in career highlights to be a part of it, but as they say, that's the way the cookie crumbles!
"Sport and injury can be cruel sometimes, but they also make you strong and this last year has certainly been my hardest test.
"Currently, I am still working with the medical team on reducing my symptoms and slowly progressing my rehab towards a better functionality.
"Timescales aren't much of a topic, so all I can focus on is my health and wellbeing over the summer and take the small positives that come my way.
"I'm wishing the England girls the best of luck during their World Cup campaign.
"I will be supporting you as always, along with the rest of the hockey family all over the country."
The England squad named contains eight Olympic Gold medallists from Great Britain's victorious Rio 2016 campaign, two of whom also competed in the games at London 2012.