Oldham charity saluted at House of Lords
Date published: 30 April 2018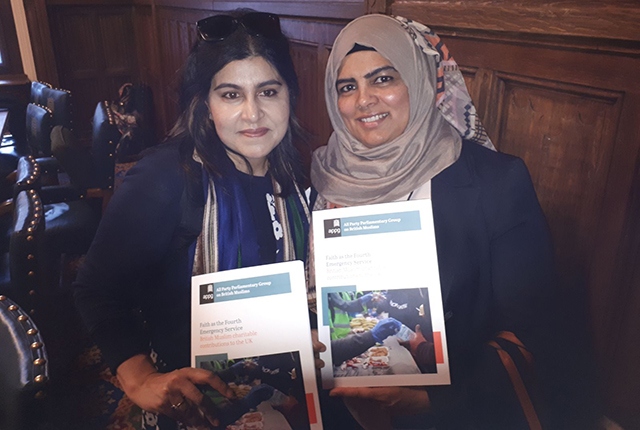 Baroness Warsi and UKEFF co-founder Hafizan Zaman pictured at the House of Lords
An influential report launched in the House of Lords by an All Party parliamentary Group on British Muslims has saluted a small charity from Oldham - the UK Education and Faith Foundation.
The Faith as the Fourth Emergency Service report looks in depth at British Muslims' charitable contributions to the UK.
It highlights how charities play an essential role in contributing to the social welfare of the UK.
The UK Education and Faith Foundation has made some positive contributions to the report.
Founded in 2013, the charity runs the Oldham Food Aid Hub in partnership with the Oldham Unitarian Chapel, and has built close links with other faith-based charities in its quest to tackle homelessness and assist those facing poverty in this deprived town.
Co-Founder of UKEFF, Mr Nasim Ashraf, is quoted in the report saying: "We do this because Islam demands it of us.
"We give as part of our religion to all of our neighbours, and not just Muslims."
The Oldham Food Aid hub was set up to tackle increasing poverty, and last year it served over 122,000 meals and raised over £17,000 in cash support in 2016 alone.
The Faith as the Fourth Emergency Service report highlights the work done by UKEFF and its initiatives to support victims of domestic abuse, single mothers living below the poverty line and support for children in getting supplies for school and warm meals.
With Oldham being named as the most deprived town in Britain, it almost echoes that it is also the most generous, as most of the charities donations come from local people, local schools, churches and mosques.
UKEFF plays a valuable role in bettering community relations and tackling negative media stereotypes of Islam and British Muslim communities.
UKEFF is now calling out to anyone who would like to volunteer at the Oldham Food Hub on Mondays between 10am till 1pm at the Unitarian chapel to call in or email them at: enquiries@ukeff.org
Alternatively, log on to: www.ukeff.org for information.
UKEFF co-founder Hafizan Zaman added: "We are extremely pleased and humbled to have taken part in this report, which has had a very positive impact on the UK.
"We do recognise that Muslim charities do work tirelessly and are part of the fabric of Britain today.
"It is also quite sad to feel that such reports are needed to rebuttal the negative media narrative within Britain which has created hostility and divide."