Friends and colleagues come together to celebrate Ramadan
Date published: 29 May 2018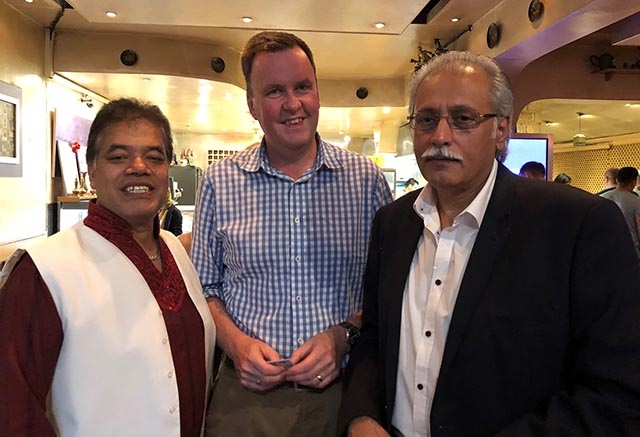 Cllr Abdul Malik, John Dalziel from Oldham Hulme school and M Parwez pictured at the 'Big Iftar' at Cafe Lahore.
Two very informative events highlighting the significance and experiences surrounding Ramadan took place in Oldham.
The 'Big Iftar' was held on Thursday, May 24, at Cafe Lahore on Union Street.
Friends and colleagues experienced a day of fasting, with many experiencing what it feels like to abstain from food and drink for a day for the first time.
At the end of the day those same friends and colleagues came together to enjoy all the tasty food and drink on offer at Cafe Lahore.
Fasting in the month of Ramadan is a very special occasion for Muslims everywhere.
It is a time for self reflection, to be God conscious, and to abstain from food and drink, which is a way of remembering those who are less fortunate locally and globally - people without food and water.
The 'Big Iftar' is an ideal way to bring people of all faiths together.
The 'Big Iftar' in Oldham was organised Kashif Ashraf and Muzahid Khan, who linked up with the national initiative.
Said Kashif: "I wanted to invite my friends so that can experience a day of fasting.
"We had a wonderful evening and people who attended commented that they missed water the most."
Craig Dean, Chief Executive at Web Applications, said: "Fasting during Ramadan has provided me with an opportunity for me to share experiences with my many Muslim friends and to be able to remind what a fantastic community I live and work in.
"It is also a time to reflect on how much work remains to be done on our doorstep to ensure we celebrate diversity and we are united in our common humanity."
Kingfisher School's Michael Unsworth said: "To fast during Ramadan was a real opportunity to share an experience that we hear about, but don't appreciate fully - the commitment that is required to fast."
John Dalziel, from Hulme School, added: "It's all about mind over matter, you just have to say to yourself.
"It helps you to appreciate what you've got and reflect on what others don't have."
The Azmet E Islam mosque, on Retford Street in Oldham, hosted a similar event (see picture above) - attended by over 150 guests - that formed part of the 'Taste Ramadan' initiative.
'Taste Ramadan' is a national event that has opened doors and hearts to people from all backgrounds in order to unveil Islam to our masses.
The new Mayor of Oldham, Cllr Javid Iqbal, attended in the evening, and gave a heart-warming speech which touched many.
He said: "We must strive to bring back the love and compassion for one another, and it's initiatives like this that will bring us all closer together with a much better understanding."
The Azmet E Islam mosque event began with a tour of the building and its facilities, while people then witnessed the call to prayer.
Everyone then broke fast together with a scrumptious three-course meal.
The atmosphere in the room was truly enlightening.
One person said: "I was really pleased to be involved.
"I came and made some wonderful new friends and learned about their beliefs."