Oldham children keep smiling!
Date published: 30 May 2018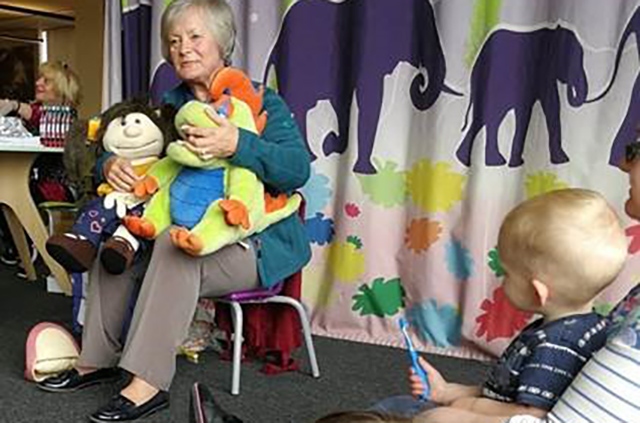 Cheryl Howarth, the Dental Playbox Facilitator at Oldham Library
Lots more five-year-olds in Oldham are smiling, so says new survey results from the National Dental Epidemiology Programme.
Every two years, the NDEP conducts a national oral health survey of five-year-old children.
The survey wants to measure the extent and severity of dental diseases among five-year-old children within local communities to highlight any disparity.
Recently the results for the year 2016/2017 have been released showing that Oldham is the local authority that faced the greatest change since the last survey in 2014/2015.
The levels of dental decay in five-year-olds in Oldham has displayed an improvement of 16.1-per-cent, putting Oldham as the fourth-highest performing authority - formerly ninth - in Greater Manchester.
Councillor Eddie Moores, cabinet member for health and wellbeing, said: "We're very pleased with the results as they show our oral health strategy to focus on improving oral health in the under-fives is succeeding.
"Oldham Council works in partnership with several organisations and community groups, such as Action for Sick Children, to raise awareness of the importance of looking after the teeth of our young people."
Action for Sick Children, the children's healthcare charity based in Cheadle Hulme, whose mission is ensuring that children and young people receive the highest standards of care by supporting parents, carers, and health care professionals, has been operating in Oldham for the last three years.
One of the main projects carried out by Action for Sick Children is the Dental Playbox® Project, initiated in 2007 in response to the alarming increase in dental decay in young children in the UK recorded in the national statistics.
The project's key aim is to teach young children (through the powerful medium of play appropriate to their age) about the importance of good oral hygiene, healthy eating and to prepare them from an early age for a trip to the dentist.
Oldham Council has been working with the charity to have 100 dental sessions from trained Facilitators visiting nurseries and pre-schools in the area.
The progress from the last national report is tangible and Action for Sick Children CEO, Val Jackson, said: "We're absolutely thrilled to be able to deliver the Dental Playbox® project in Oldham and to have been a part of such a drastic reduction in tooth decay in children aged five and under.
"Our focus on using play to deliver the key oral health messages to children in the area has been a major part of the project's success.
"I am incredibly proud of the team for being part of such a positive achievement."