Home is definitely where the heart is
Reporter: Simon Smedley
Date published: 02 October 2018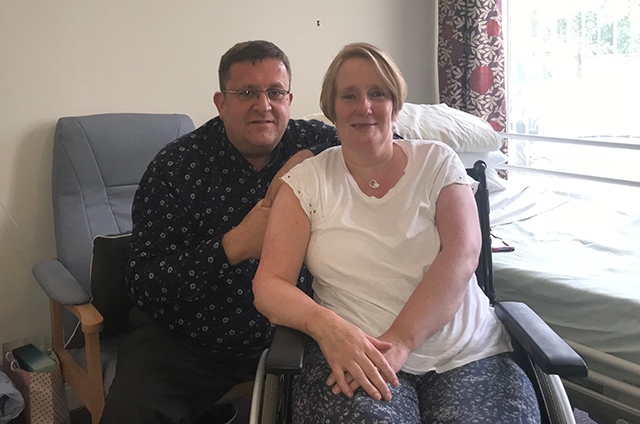 Debra Goodman and her husband Dale are pictured at the Dove's Nest care home
'We just want Debs back home'.
It's a simple enough statement it would seem, but for the husband and family of Failsworth's Debra Goodman, that has proved out of their reach for almost 12 months as she suffers from life debilitating illness multiple sclerosis.
Currently being cared for at the nearby Dove's Nest care home in Newton Heath, Debra's life is a constant battle as she is fighting the third and most severe 'primary progressive' form of MS.
Debra's dedicated husband Dale continues to struggle on, valiantly keeping the family home on Landsberg Road shipshape despite still much-needed work commitments, and making sure that 17-year-old twins Max and Ella are fed, clothed and, of course, loved.
Now, a mega fund-raising event has been organised – to take place at Hotel Smokies Park on Sunday, October 14 – to raise cash towards an extension and other essential moderations needed just to get Debra back into a desperately-needed family environment.
Originally noticed as a possible bladder problem eight years ago, Debra's MS was first officially diagnosed five years ago after Mr Kourah at Highfield Hospital referred her to Dr Molloy at Salford.
Dale recalled: "It was just the worst scenario. We just asked ourselves, 'why us, why Debs?'
"She'd had quite a traumatic life anyway due to various family losses, and this was just another thing that was thrust upon us.
"It was really, really difficult. The MS was in her bladder, then moved into her legs which affected her walking.
"Within 18 months Debs had deteriorated so much where she wouldn't even walk to the shop on her own, certainly without linking me.
"By 12 months ago, Debs was constantly falling in the house, she had a fall on the stairs on the 19th of August last year, went to hospital, and that was the last time she stayed at home."
After the fall Debra spent five weeks in Royal Oldham Hospital, three weeks at the Butler Green Enhanced Intermediate Care Centre in Chadderton, before being transferred to the Floyd Unit at Wardle, near Rochdale.
Thankfully, Debra was transferred to the Dove's Nest Nursing Home in nearby Newton Heath in March this year, something Dale very much welcomed.
He said: "It was killing me as Debs had lost touch with some of her friends because of the distance (to and from Wardle) – people do have busy lifestyles.
"Dove's Nest is just in Newton Heath, though, the neighbourhood support team were great, and anyone can go and see her every night now if they wish.
"I go in the morning, take her a paper, have a laugh with her for 10 minutes and then go to work.
"I go again at dinner and then in the evening Debs has quite a few friends that go.
"I'm her husband and I love her, but I'm not her carer, and that's the big block."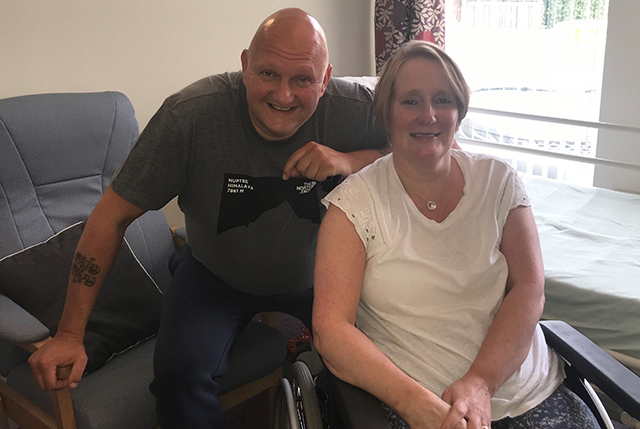 Debra can't use stairs and needs a specially adapted bed with a hoist, but the funding isn't there and due to an extension also being required, anything up to £38,000 will be needed in order to bring her home.
Family girl Debra earned modestly as a dinner lady before her illness took hold, and Dale took a huge salary cut in order to be at home permanently, so this is why his life-long pal Lee Hollister – front-man in top local tribute band Manchester Ska Foundation - has decided a fund-raising push is most definitely in order.
Dale said: "I'm not one of these who's in the system, I don't know how to play the system. I'm not even sure I want to be in it or play it.
"We've always been just us. We have a wide range of friends, but then it's more about a close-knit group of friends.
"I don't do social media – apart from LinkedIn for work – if I want a friend I phone them.
"The whole point of all of this, though, is I need to get Debbie home, for her sanity.
"On top of that, there's four of us in this family, and we're all drifting in some shape or form.
"Max and Ella brush things off – it's just how it is – but though I'm big and brash maybe, I have to accept this too.
"This is how our lives are now – I love Debs, she's my wife, and I'll love her forever.
"I don't shout any more or anything like that, but I am struggling.
"I'm 49 and I'd never picked an iron up in my life until Debs went into hospital.
"I'm doing it all now, though, washing, cooking and cleaning, but I need my wife.
"Debs is finding it desperately tough, too. I can see she's shrinking in on herself every day and we need to try and stop that."
The October 14 Debra Goodman benefit show line-up – headlined by the fantastic Manchester Ska Foundation - also features ace local band Ok Broken, vocalist Gareth McKenzie, and popular DJs the Skafather and Caz Matthews.
Details are regularly posted on the dedicated Facebook page.
In the meantime, donations are already being taken on the Just Giving page.
Log on to offer your support here: https://www.justgiving.com/crowdfunding/debbie-goodman?utm_id=62
---
Do you have a story for us? Want to tell us about something going on in and around Oldham? Let us know by emailing news@oldham-chronicle.co.uk , calling our Oldham-based newsroom on 0161 633 2121 , tweeting us @oldhamchronicle or messaging us through our Facebook page. All contact will be treated in confidence.