Tesco workers in Oldham celebrate community award
Date published: 06 February 2019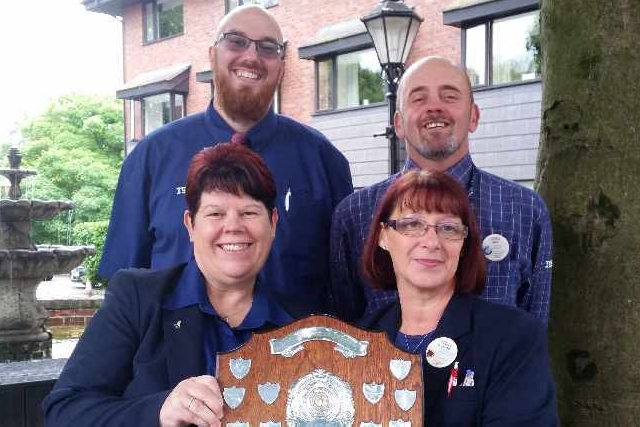 Community Award for Tesco workers
Workers from four Tesco stores in Oldham have been given a community shield award by Oldham Metro Rotary Club, thanks to their combined efforts in 2018 to provide help and support to local projects and community groups.
Rose Knipe from Tesco Failsworth, Suzette Wright from Tesco Chadderton, Greg Barratt from Tesco Greenfield and Mike Milenko from Tesco Oldham were given the honour thanks to projects including a large-scale canal clean-up, a Veterans' Afternoon Tea and healthy eating projects within local schools.
The colleagues each hold the position of community champion in their stores and spend a portion of their working week liaising with community groups and finding funding, manpower or other resources to enable projects to take shape.
Oldham Metro Rotary Club became aware of the group's various ongoing schemes and invited the community champions to a dinner to discuss their efforts, where they were surprised to be awarded the Community Shield award.
Rose Knipe, community champion from Tesco Failsworth, said: "The award came as a big surprise, and it was a huge honour to be recognised by Oldham Metro Rotary Club for our community work. The fact that we share the award across our four stores makes it even more special. We all carry out individual projects in the vicinity of our own stores but know we can call on each other to work together when needed.
"I love being a community champion with Tesco. I get to meet so many different people from throughout the area and am actively encouraged to find ways to lend my support – and the support of my colleagues – wherever we feasibly can."
Alongside their own projects, the colleagues are also involved in the smooth running of Tesco initiatives Bags of Help (which sees funds raised by the sale of carrier bags invested into local initiatives) and Community Food Connection (whereby charities can register to collect unsold food from nearby stores each day).
For more information or to discuss a community initiative, pop into your local Tesco store or click here.