Letter: Demand democratic trade deals to protect health
Date published: 13 November 2017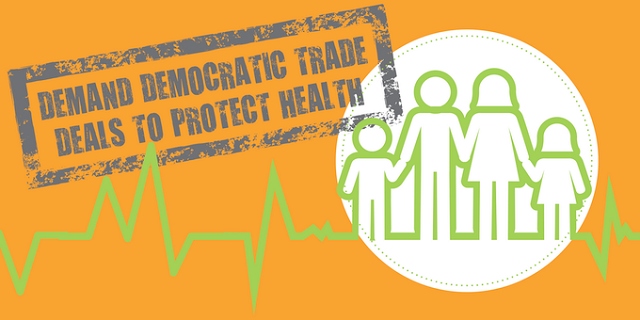 Demand democratic trade deals to protect health
Dear Editor,
When we leave the EU, the UK government will be able to negotiate new trade deals with countries around the world.
As things stand, there is no meaningful way for civil society and parliament to take part in or monitor this process.
As we leave the EU, the UK will be negotiating its own trade deals for the first time in 40 years.
Without proper transparency and accountability in the trade deal negotiation process, we won't be able to prevent measures that are harmful to public health or fully protect our public services.

Health Poverty Action is working with the Trade Justice Movement to demand greater transparency and democracy in trade deals. I have written to my MP to ask them to support a motion calling on the government to ensure that negotiations are transparent, and parliament and the public are involved in the process, from setting the mandate through to signing off the deal.

From setting the negotiating mandate to monitoring negotiations along the way, to accepting the end result – all of this can currently be done without any input from civil society, MPs or the devolved administrations.

If we want trade deals negotiated after Brexit to protect and promote public health, then this needs to change.
That is why Health Poverty Action and the Trade Justice Movement are calling on MPs to demand greater democracy and transparency in trade deals.
Readers who may be concerned that their future health services post Brexit remains transparent, democratic, and protects health can also take action and ask our MP to support Early Day Motion (EDM) 128 to signal to the Department for International Trade so that we all see a greater role for parliament and civil society at all stages of the trade deal negotiation process.
This can be done in a few moments at:

https://healthpovertyaction.eaction.org.uk/lobby/tradedeals

Thank you.
Yours,

Andrew Wastling
The views expressed are those of the author of the letter and not those of Oldham Chronicle.