Letter: Please support of the Fitness for Human Habitation bill
Date published: 27 November 2017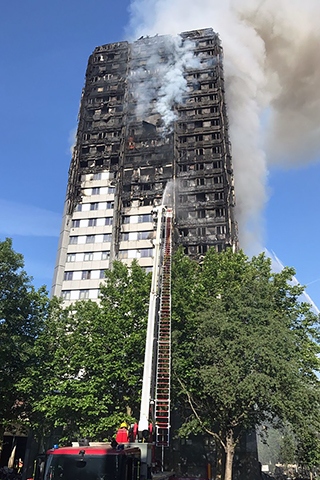 Photo: London Fire Brigade
Fire at Grenfell Tower, London
Dear Editor,

Renters' concerns are too often ignored, their rights too easily neglected. The Grenfell tragedy provided the starkest reminder of this.

MPs will soon be debating a new bill that will empower renters to take legal action over unfit and unsafe conditions, allowing them to raise issues relating to fire safety.

Please could I ask readers to sign Shelter's petition in support of this bill right now. Together, we must speak out to demand that MPs come together and seize this opportunity.

If this bill is not supported by enough MPs, it simply will not pass – and the chance will be gone.

As well as fire safety, the bill will also cover other dangers like asbestos, electrical hazards and toxic mould.

Currently, one million private and social rented homes have risks that pose a serious threat to health and safety.

Too many of us are renting homes that are not fit for the purpose.

Signing the Shelter petition is easy – and in doing so, you will be supporting a bill that has the potential to save lives.

A bill that would have given Grenfell residents a meaningful route to address the concerns they raised over and over again.
Could I please urge concerned readers to add their names to Shelter's petition at:

https://england.shelter.org.uk/support_us/campaigns/fitness_for_human_habitation

Thanks.
Yours,

Andrew Wastling
The views expressed are those of the author of the letter and not those of Oldham Chronicle.