It's all systems go for Oasis Academy Leesbrook
Date published: 01 March 2018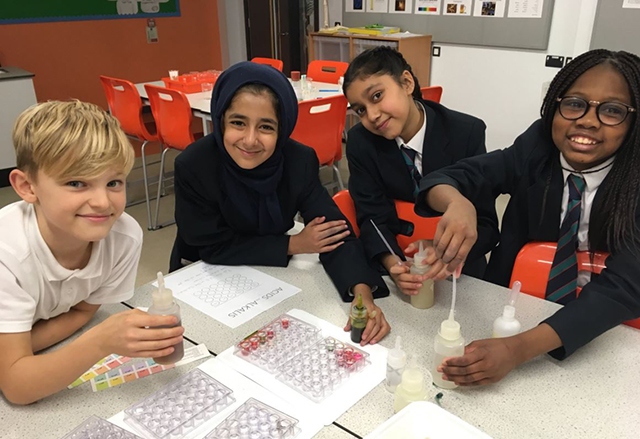 Oasis Academy Leesbrook is set to open in September at a temporary home at the Middleton Road campus
With two full year groups set to take their places in September, it's all systems go for Oldham's newest school, Oasis Academy Leesbrook.
The latest exciting part of the country-wide Oasis group of 49 schools – 81-per-cent of which are Ofsted-ranked 'Good' or 'Outstanding' – Oasis Academy Leesbrook Principal Sarah Livesey is now busily making preparations for when the doors open for first-class learning at the start of the next academic year.
Years Seven and Eight pupils will be accommodated at Oasis Academy Leesbrook's temporary home at the Middleton Road campus from this year, before a brand new purpose-built school – which is planned to be on the former Breeze Hill site just off Lees Road – will officially open during the summer of 2020.
Speaking enthusiastically about Leesbrook – a sister school for the Oasis Academy Oldham and Oasis Academy Limeside – Livesey said: "Our key objective will be to make sure that every single child that comes to our school, will go on to lead a happy and successful life.
"What that looks like for each child may be very different, and will be very different, but our job will be to equip the children with the academic skills, social skills, emotional skills and the cultural enrichment that will allow them to apply to university, and the world's best universities at that.
"They may want to try apprenticeships, or take up the dream job that they want, but our job is to make sure the students will be ready to handle those opportunities and really seize them.
"The provision that we will offer will be competitive. It will be academic, but it will be culturally enriching too.
"We will want to make sure our students are our next local leaders, community leaders, global leaders even.
"It's really important for us that there will be no glass ceiling.
"We want our children to achieve whatever they wish.
"It'll be up to us to work with them and their families, to equip them to be able to do that."
The Principal – Livesey has previous experience of working at three 'outstanding' ranked schools in the region - has certainly been doing her homework in a bid a build a solid community platform to work from.
"I've been really lucky to have been welcomed by the community," she said.
"I've spent a lot of time with local faiths, organisations and community groups.
"I've been to over 25 primary schools and met the children and teachers there, and I've been involved in a lot of local initiatives.
"Everyone has welcomed me with open arms and given me vital information about what they want for their community and what they want for their children.
"That's been key for me, in terms of building a school that is not just a building the children go to and then go home at four o clock.
"Our school is going to be a hub within the community. It's going to be a place for parents and students to really be a part of.
"We want to promote the diverse culture here, and celebrate that within school.
"Having that insight and that information from those key groups has been wonderful.
"I feel lucky to be working in Oldham, among such a diverse community.
"We have got a strong cultural programme planned, and that will help the young people understand their world really, and to be able to help them engage with lots of enrichment opportunities.
"Things like politics, music, literature, art, STEM and sport will all be embedded in, and be a key part of, our curriculum."
An Oasis Academy Leesbrook recruitment drive is now well and truly under way, and the calibre of candidates will be high.
"All of our staff will know all of our children, and it will be very much a family feel," added Livesey.
"The teachers that we'll have in front of those students will be absolutely crucial.
"They will inspire the children, inspire a love of learning and inspire a love of the subjects.
"To that end the recruitment process will be very rigorous."
For more essential information on the new school, check out the 'Academies Opening Soon' section on www.oasisacademyleesbrook.org