Oldham starlets shine with the United Foundation
Date published: 05 April 2018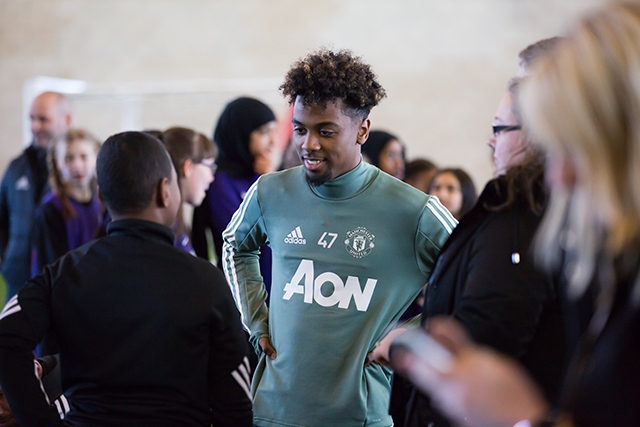 Manchester United prospect Angel Gomes meets some of the pupils at the Aon Training Complex
Lucky pupils from Oldham Academy North were among Manchester United Foundation participants who received the amazing opportunity of playing at the Aon Training Complex, following in the footsteps of their United heroes.
Pupils from Foundation partner schools across Greater Manchester have teamed up with pupils from local Special Educational Needs (SEN) schools to take part in Unified Football, a 10-week training programme, culminating in a tournament at Manchester United's iconic training ground.
Unified Football is a Special Olympics GB campaign delivered in partnership with Youth Sport Trust, which joins people with and without learning disabilities on the same team.
It is inspired by a simple idea; training together and playing together is a quick path to friendship and understanding. In Unified Football, teams are made up of people of similar age and ability, which makes practices more exciting and fun for all.
Manchester United Foundation's Unified Football programme has been organised through the charity's Inclusive Reds disability and inclusion programme, which is funded by the Premier League and BT Sport disability fund.
Four hubs were made up of Foundation partner schools and their local SEN School to participate in 10 weeks of training before being invited to the Aon Training Complex for a tournament to bring all participants together.
The tournament was filmed for the Foundation's annual Match of the Day community feature and was later broadcast on BBC1 and was attended by BBC Reporter and former England Women's team player Sue Smith, England Cerebral Palsy football team captain Jack Rutter and members of the Manchester United youth teams, including Angel Gomes, Luca Ercolani, George Tanner and Aidan Barlow.
Alex Wilson, disability and inclusion officer for Manchester United Foundation, who coordinated the programme, said: "For some of the kids it's massive to be here.
"When they walked through the door there were huge smiles on their faces so it's been great to be able to invite them somewhere as iconic as the Aon Training Complex to play on the same pitch as first team and youth team players.
"The programme has also been great to educate the children about disabilities, and to show that just because some children may have a disability or special educational needs it doesn't mean they can't play football on a level playing field."
Thirteen-year-old Oldham Academy North pupil Ibrahim was part of the team which finished runners-up.
He said: "I've really enjoyed it. We got to the final and it's a shame we lost but it's been brilliant, especially to meet some of the Academy players.
"I've enjoyed being part of the programme because it has given us the chance to meet with other schools and I've made a few friends. It's just been a pleasure to be a part of."
The Oldham Academy North, Whalley Range High School for Girls and Manchester Health Academy are linked with Manchester United Foundation through its Partner Schools programme, which bases full time coaches in targeted areas to building lasting relationships and impact the lives of young people.