Olympic star wows Rishworth students
Date published: 30 April 2018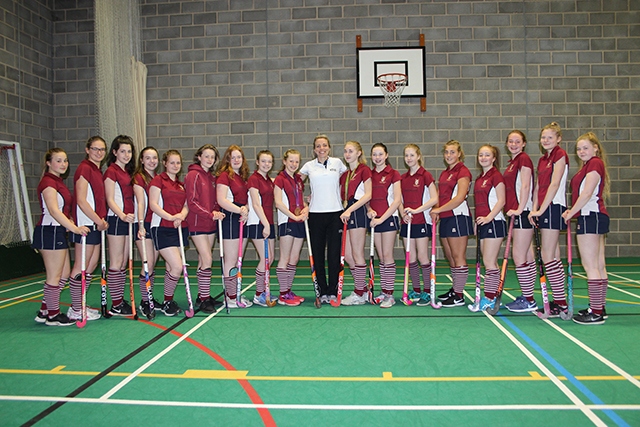 Gold medal-winning Olympian Kate Richardson-Walsh at Rishworth School
Rishworth School was very lucky to be visited by former Hockey's gold medal-winning Olympian Kate Richardson-Walsh.
The day was kindly provided by Squadkit as Kate is a Squadkit Performance Director.
She spent a fascinating 40 minutes with the PE, Psychology, Biology and EAP academic classes, offering an insight into training regimes, controlling levels of arousal, leadership styles and personality factors in the team' periodisation for the Olympics and funding for the team.
She supported all this with personal anecdotes and humour and was incredibly open and honest in her responses. The classes were fully engaged.
The rest of the day was spent with open Q&A sessions for all age groups from Year 7 to 10, training for squads from U12's to Seniors, and an invitation to other local schools to also come in and meet her and of course, hold a gold medal.
Heathfield, the junior school to Rishworth, saw their hockey players having their own slot to meet Kate and get photos and signatures.
Kate said: "If I could give you anything, I'd give you a shot of confidence.
"Don't say I can't do that – say I can't do it, yet. Ask why not me, instead of saying that will never be me."
Linda Wood, Rishworth teacher in charge of hockey, said: "She was truly inspirational – amazing with all students of every age; genuinely interested in meeting them and making them better.
"She's an incredible hockey legend."