REVIEW: Pete and the band are on the right Road
Date published: 14 March 2018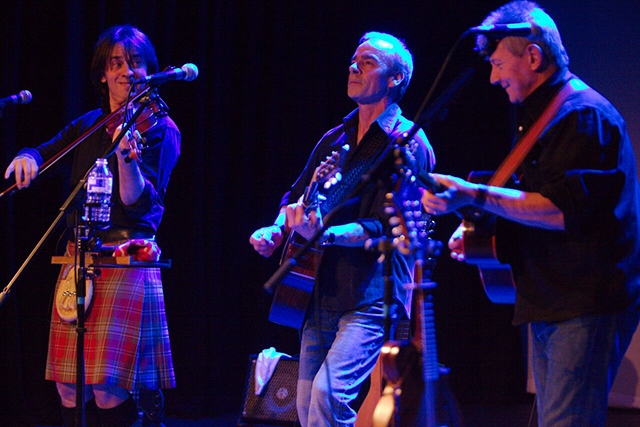 Other Roads at the Playhouse 2. Picture by Pete Grubb
Internationally acclaimed folk band, Other Roads, played a typically excellent set at Shaw's hidden gem, the Playhouse 2.
Fronted by locally-based singer-songwriter and guitarist, Pete Abbott, and with the renowned Scottish musician Gregor Borland on fiddle, mandolin and bass guitar and multi-instrumentalist and singer Dave Walmsley, Other Roads wowed an appreciative audience with a selection of their old favourites including Windy Harbour, London Road and Rosemary's Garden.
They mixed it up with a sprinkling of tracks from their brand new CD release - Green Light - including Pete's song for a homesick Scot (Gregor), The Pipes are Calling, Dave's Across the Rubicon and the haunting Pray.
Other Roads finished off with Steve Knightley's foot-stomping, hand-clapping audience participation tribute to the Cheltenham Festival - Galway Farmer.
Upcoming gigs at Playhouse 2 include soul tribute Made in Motown on March 23, 1970s superstar Kiki Dee on March 24, Wigan-based folk-rockers Merry Hell on May 4, Shaw-based Kinisha – the UK's best Tina Turner tribute on May 5, Genesis tribute MAMA on May 12 and Glam Rockz on May 18.
Tickets are available online via www.playhouse2.org