Holmes turns back the clock to go 'home'
Date published: 20 November 2017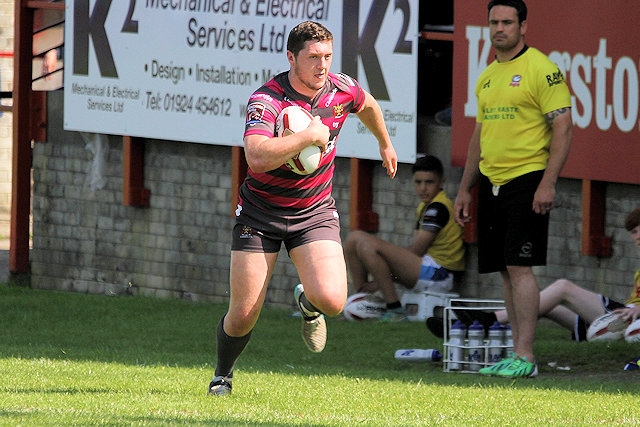 Jack Holmes, Oldham Rugby League
Jack Holmes, a key player in Oldham's 2015 promotion-winning squad, is back with the Roughyeds after a season and a bit at Rochdale Hornets.

The 23-year-old utility back enjoyed promotions in consecutive seasons, playing for Oldham in their 31-20 promotion final win against Keighley Cougars in 2015 and scoring the first of Rochdale's four tries in their stunning 24-22 triumph at Toulouse Olympique in the 2016 final.

He has now left Hornets to sign a new one-year contract with Oldham and to return to the club where he scored 20 tries in 36 games spread across League One in 2015 and the Championship in 2016.

Head coach Scott Naylor said: "It is nice to have him back. We lost a lot of backs at the end of last season and we needed to replace them with good-quality lads. Jack fits the bill perfectly.

"We know him well too, which is a bonus.

"He is a good lad in the changing room, he always gives his all, and he does what he is asked to do. All-in-all, he is a really good lad to have in the squad and we are delighted we have got him."

Holmes scored 15 tries in 22 games for Roughyeds in 2015, and 13 tries in 17 appearances in League One.

In the promotion final, he played on the left-wing outside Jon Ford, although he can also play at centre and full-back, versatility that will have appealed to Naylor and his assistant Peter Carey.

It was harder to score tries in the Championship, but Holmes crossed for three in a dozen appearances in the second tier (five in 14 overall) before he was loaned out to Rochdale Hornets in a move that ultimately led to him becoming a fully-fledged Hornets player.

He arrived at Rochdale just in time to take his place on an all-out assault on promotion and he did that by figuring in seven of the Hornets last eight games, twice at centre, once at full-back and four times on the wing.

He ended the 2016 season as a Hornets hero with a try in that massive win in France, but promotion saw the arrival of Rob Massam and the far greater use of Lee Penny from partner club Warrington Wolves, with the inevitable increased competition for places out wide in the back division.

Holmes said: "I did not get much game time last season. I am hoping to get more at Oldham, naturally, and I have got to say it is good to be back. I missed it while I was away.

"I really enjoyed my rugby when I was at Oldham before and I am sure I will enjoy it again. It was always a good place for me.

"It was Oldham who gave me an opportunity when I most needed it and I got promotion with them so I always had fond memories of the place and of the club.

"I am familiar with the club, the coaching staff and a lot of the lads who are still there. In fact, it felt a bit weird when I walked into training the other night. In some ways it felt like I had never been away.

"The group was still just as close as I remembered it and it was good to be back with a lot of the lads who were there when I left."

Oldham now have 20 players on contract for 2018, including nine new signings in Paul Crook, Luke Nelmes, Danny Rasool, Kyran Johnson, Dave Eccleston, Matt Reid, Adam Jones, Liam Bent and Jack Holmes.