Crook will be key, says Scott Naylor
Date published: 28 November 2017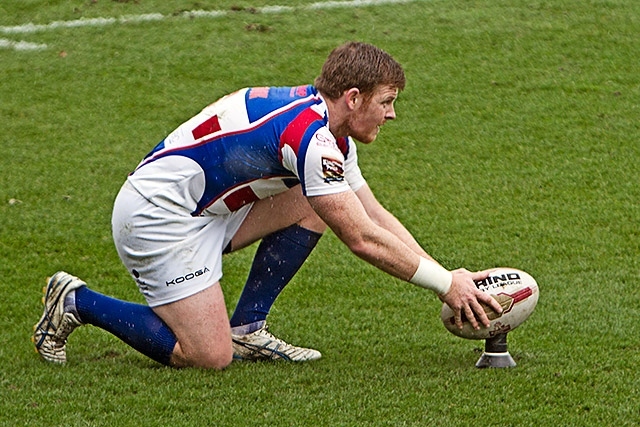 Ex-Hornets points machine Paul Crook joins Oldham
Scott Naylor has confirmed what every Oldham fan already believed, that new signing Paul Crook will be the Roughyeds' midfield linchpin in a highly-competitive League One campaign.
Crook was signed to dictate operations and to lead the team on the ptich. He is the one old-head among nine new signings so far.
The other eight, forwards Luke Nelmes, Adam Jones and Liam Bent plus backs Danny Rasool, Kyran Johnson, Dave Eccleston, Matt Reid and Jack Holmes, have an average age of 22.

Oldham coach Naylor has now stated publicly that Crook, the ex-Rochdale Hornet and all-time Hornets record points scorer will be given the remit to take the lead.

He said: "Paul is a first-rate kicker of the ball, but his overall experience will be vital for us too.

"He can pull the strings in midfield and also lead the other lads around the pitch, something we lacked last season. Through inexperience, we suffered a few times in the last ten to 15 minutes last season. Next time, we hope Paul will help us to keep our noses in front if we find ourselves in similar situations.

"We lacked a little bit of know-how last year, but it should be different this time around."

Crook played for St Helens and Widnes before his seven-year stint at Rochdale where he scored nearly 1,500 points to smash all previous Hornets scoring records.

He then had a season at Whitehaven where he scored 225 points in 27 games and steered the Cumbrians to the 2017 promotion final in which they narrowly lost out to Barrow Raiders in front of a 3,000-plus crowd at Craven Park.

By a twist of fate, Roughyeds go to Barrow in a pre-season friendly on Sunday, 21 January, more warm-up games are expected to be announced soon and open their League One season at Whitehaven on Sunday 18 February.