Gareth Owen thrilled to keep Oldham captain's role
Date published: 18 January 2018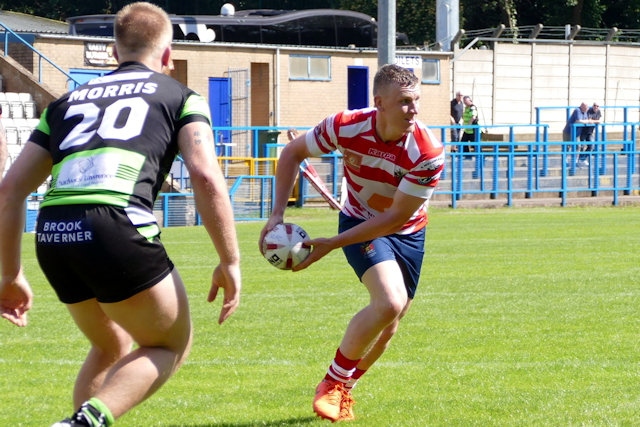 Gareth Owen, Oldham RLC
Gareth Owen is excited by the prospect of captaining Oldham in the forthcoming League One season.

It will be his second consecutive year as captain of his home town club and the 25-year-old hooker is determined to make up for the setbacks that blighted his inaugural season as captain, such as relegation from the Championship and the first serious injury of his career.

Owen, still on rehab after surgery on his left foot, was one of several players to suffer season-ending injuries with a dozen or so games still to be played.

He said: "It was tough, but all that's behind us now as we look forward with confidence to the challenges that League One will throw at us.

Head coach Scott Naylor said of Owen: "He is the most qualified lad we have got for the job and he is an Oldham lad as well which I think is very important.
"He was very proud when I invited him to accept the responsibility for another year and, in accepting, he did not think twice.

"It was a shame that injury ruled him out of the last third of the season, but he is looking forward to getting back in harness and training with the rest of the squad as soon as he is able.

"It was tough for us last year, but on and off the field Gareth led with pride and dignity and he will do the same again this year."

A former Super League player at Salford, Owen has played 82 games for Oldham, scoring nine tries, since his debut in a 24-23 home win against Hunslet Hawks on 20 July 2014.

He suffered the bitter disappointment of golden-point, extra time defeat by Hunslet (17-16) in the 2014 League One Grand Final at Headingley, but a year later he enjoyed the ecstacy of a 31-20 victory against Keighley Cougars in the Promotion Final.

He expects to be challenging for promotion again at the end of the forthcoming 2018 campaign, although he knows League One will be a very competitive division, featuring several clubs with promotion agendas.

He said: "I was buzzing when I was asked to be captain again. It is just a pity I am still not training with the rest of the boys because I'm on rehab. That's frustrating.

"The Law Cup win at Rochdale was a cracker. Not many expected us to win over there, but we were the better side and I thought all our new signings played really well.

"I was gutted not to be on the field with them, but absolutely delighted at the way the boys played. They produced a great performance. It is not easy for a player to watch a game when he is injured, but I thoroughly enjoyed our performance and at the final hooter I think I showed it."

He will have two vice-captains but they have yet to be appointed. Last year the roles were filled by Sammy Gee and Scott Leatherbarrow, both of whom are no longer at the club.

Naylor and his assistant, Peter Carey, will discuss the appointments over the course of the next week or two.