'We looked good, strong and better with ball in hand', says Naylor
Date published: 29 January 2018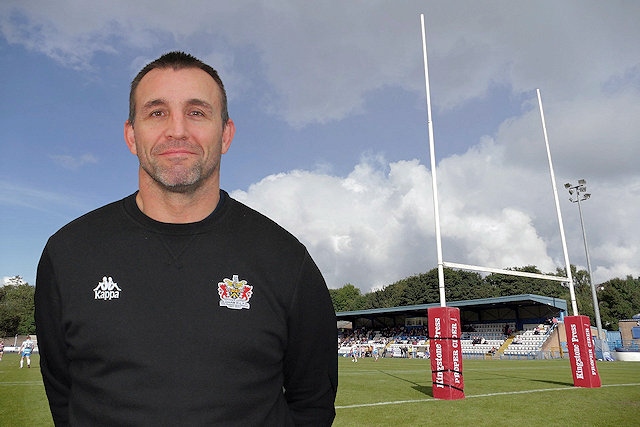 Scott Naylor, Oldham Rugby League coach
Scott Naylor was delighted to be back at the Vestacare Stadium and pleased to see his new-look squad run in nine tries in a 52-6 win against Keighley Cougars on the new artificial pitch.

The Roughyeds' big pack laid down the foundations for victory in this third and final pre-season game for Naylor's men, who don't play again until they go to Whitehaven for their Betfred League One opener on Sunday 18 February.

Winning two and losing one of their 'friendlies' (two of them away against Championship sides), Oldham have scored 86 points in total and conceded 46 while also regaining silverware in the shape of the Law Cup.

Naylor said: "This was definitely the best we have looked so far."

Neither side was at anything like full strength, but Oldham looked good in a performance that held rich promise for the tougher challenges that lie ahead.

Naylor added: "After two games on heavy pitches, it was good to play on a dry surface with no rain. That made all the difference. We looked good, strong and better with ball in hand. It was a solid performance all round.

"Our middle unit did us proud. We have got some big forwards and it is a waste of talent to use them only on yardage sets or when we need them to get us out of trouble. They are worth more than that and they deserve more than that.

"I also like to use them with good ball in good attacking positions. It keeps the opposition guessing and it is good for our big fellas too because they like to score tries and they like to be recognised as more than just yardage men. Overall, it was a good team effort."

Three of the nine tries were scored by his 'big fellas' - Levy Nzoungou, Phil Joy and Danny Bridge - while another of his heavyweight props, Luke Nelmes, delivered the final pass for the Nzoungou try and twice slipped the ball like a half-back only to see his fellow front-rower, Joy, stopped on the line.

Joy and Bridge finally went in thanks to the brilliant running and distribution from dummy half of 20-year-old Matty Wilkinson, a worthy man of the match.

Naylor said: "He has the ability to spot the gap, go for it, and then deliver the right pass. We sometimes forget how young he is. He's got all his career ahead of him so going forward he's got to be a good bet.

"He is also got a great attitude to training and to this club so that has got to be good for himself and good for Oldham."

Keighley coach Craig Lingard said he was disappointed because he gave his fringe players a chance to cement their places in the first team and they did not take it.

He added: "Eight or nine regulars didn't play and then we lost Lewis Fairhurst through illness on the morning of the game so we had to play with only one (recognised) half-back.

"Oldham play a simplistic game of high completion with tough and aggressive carries. We defended touchline to touchline, but we did not need to and our centres and wings could have pushed us inside a lot more.

"We faced a side (Oldham) we expect to be in the top three of League One but our strategy in picking the squad we did failed to pay off against what is (effectively) a Championship pack."