'Make your mind up' time for Oldham's Naylor
Date published: 30 January 2018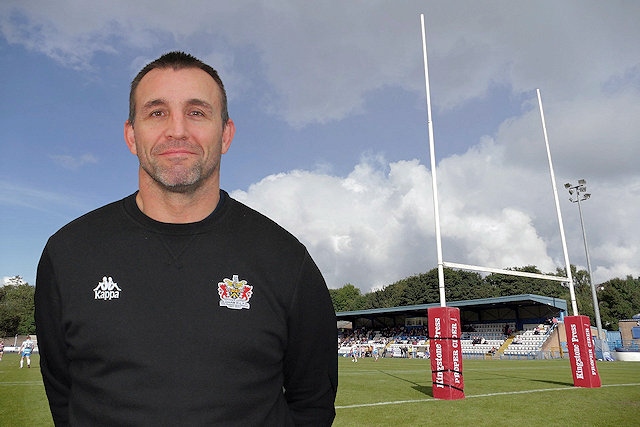 Scott Naylor, Oldham Rugby League coach
Scott Naylor says he has 'tough decisions' to make on the five trialists who have been at the club since the start of pre-season training last November.

Chris Barlow has played in all three warm-up games, scoring a try from left-wing in the Law Cup win at Rochdale.

Ben West, Zak McComb, Joe Martin and local boy Harry Maders figured in the 16-6 defeat in appalling conditions at Barrow and kept their places in the squad that put 52 points past Keighley Cougars at the Vestacare Stadium.

With no more pre-season games scheduled before the first Betfred League 1 fixture at Whitehaven on 18 February, it is 'make-your-mind-up' time for Naylor and the coaching staff.

The Roughyeds head coach said the squad that would be in place by mid-February would be the one to carry the club through the season.

Of his five young hopefuls, he added: "They have been brilliant all pre-season. They have done all we have asked of them. They have not put a foot wrong.

"Conditions at Barrow prevented us having a proper look at them but now, after the Keighley game, we have got some tough decisions to make. They all did well in different ways and now I am in a predicament. I never expected to be in a position like this."

Roughyeds have 21 contracted players and recently agreed a dual-registration link-up with new partners, Salford Red Devils.

Both clubs wasted no time in setting the partnership in motion when Salford's new signings Gavin Bennion and Levy Nzoungou played in Oldham's 52-6 demolition job on the outgunned Cougars.

Naylor said: "It is vital to get the size of the squad just right. It is a balancing act; big enough but not too big. The dual-reg system is there for us, but we have got to have enough players of our own as well.

"It is striking the balance. Every coach would like 27 or 28 players of his own plus dual-reg plus five loan players. Every week he would pick his best 17 and everyone would go home, happy with the coach and club whether they were playing or not.

"It does not work like that. You have got to be careful to get the balance right, taking into account dual-reg, which has to work for both clubs, and the possibility of loan signings to fill the gaps if you pick up injuries later in the season.

"It is hard to get it right. We got it wrong massively last season and that was one of the reasons we got relegated. It is not something we are considering getting wrong ever again."

Asked about the return to the Vestacare Stadium after two years at Stalybridge, he said: "It is nice to be back. This is our home. It is where we want to play rugby. We like it here. It is an intimate little stadium; the players like it too, especially when the crowd gets on top of the opposition.

"We have now got to make it a fortress again; like it was before we left when other teams did not like coming here at all.

"Having said that, Stalybridge was good for us. It was the right place for us to play in the Championship. The facilities were good, the ground was perfect for us, and they looked after us brilliantly. We could not have asked for more."