Oldham ease into Challenge Cup fourth round
Date published: 26 February 2018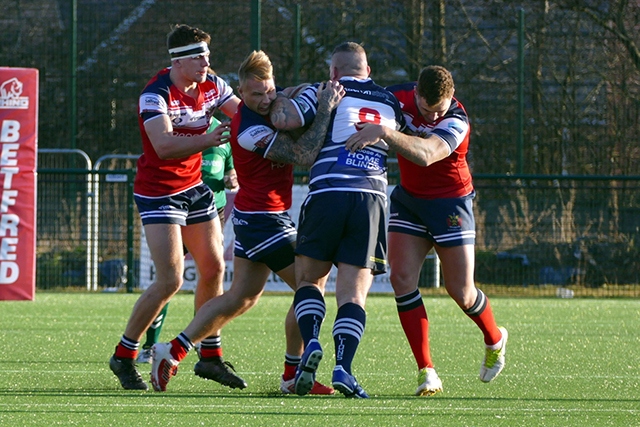 Action from The Roughyeds' comfortable Challenge Cup victory against Featherstone Lions. Pics courtesy of Dave Naylor
by Ryan Booth
Oldham RL cruised into the fourth round of the Ladbrokes Challenge Cup after pummelling NCL 1 outfit Featherstone Lions 42-0 in a physical encounter at the Vestacare Stadium.
Two tries from Danny Langtree alongside further efforts from Zak McComb, Ben West, Phil Joy, David Eccleston and Danny Bridge ensured The Roughyeds comfortably advanced into the next stage of the 117-year-old trophy.
The Roughyeds took the lead in the second minute when Danny Langtree pounced onto Paul Crook's grubber kick before touching down for his first try of the season, Crook successfully converted the resulting goal to extend Oldham's lead to six points.
Oldham extended their lead minutes later when Zak McComb dived over after some quick hands from Kyran Johnson, Crook again converted the goal.
Featherstone were temporarily reduced to twelve men when Daniel Gilbert was sent to the sin bin by referee Liam Staveley due to a high tackle.
The man advantage proved pivotal as Oldham crossed for the third time moments later, however Ben West's effort was ruled out due to a forward pass.
Kyran Johnson was unfortunate not to have scored an early contender for try of the season after collecting a high ball deep inside his own half, before sprinting the length of the field but Featherstone's Dean Gamble remarkably caught up to the lively full-back to prevent the score.
However, Gamble became the second Lions player to be sent to the bin as his defensive efforts were deemed dangerous.
Oldham scored from the resulting penalty, McComb produced an excellent piece of skill which left West with the simple task of crossing over, Crook converted the extras in what was the final point scoring action of the half.
It took the home side just eight minutes to pick up where they left off after the break, Matthew Wilkinson's short ball found the unchallenged Phil Joy who touched down to finish off a well-worked move.
Scott Naylor's side were in a ruthless mood, Jack Holmes produced a superbly timed pass to allow David Eccleston to race over the whitewash and extend Roughyeds' lead.
Featherstone's frustration was gradually increasing and the visitors soon received their third yellow card of the contest as Daniel Glassell was sent to the touchline for foul play.
Oldham scored two tries in the final ten minutes as Langtree stepped past several tackle attempts to claim his second of the afternoon, before Danny Bridge crossed over to complete the rout, Crook successfully converted each effort to maintain his 100-per-cent record.
The draw for the Challenge Cup fourth round, which includes Betfred Championship clubs, willl be made tomorrow (Tuesday) evening.
Oldham: Johnson, Eccleston, Holmes, McComb, West, Crook, Hewitt, Joy, Hughes, Neal, Bridge, Langtree, Bent Interchanges: Jones, Nelmes, Rasool, Wilkinson.
Featherstone Lions: Jackson, Redfern, Gale, Battye, Garahan, Wandless, Perkins, Mawson, Gamble, Gilbert, Fox, Wilson, McAllister Interchanges: Gibbins, Beckett, Frankland, Glassell

Oldham Scorers: Tries- Langtree (3', 71'), McComb (10'), West (36'), Joy (48'), Eccleston (55'), Bridge (76')
Goals- Crook (2', 10, 37' 48', 55', 71', 76')

Featherstone Scorers: Tries- N/A
Goals- N/A
Yellow Cards- Gilbert (24'), Gamble (38), Glassell (65')

Referee: Liam Staveley.
Attendance: 364