Roughyeds will have a 'real go' at Halifax
Date published: 28 February 2018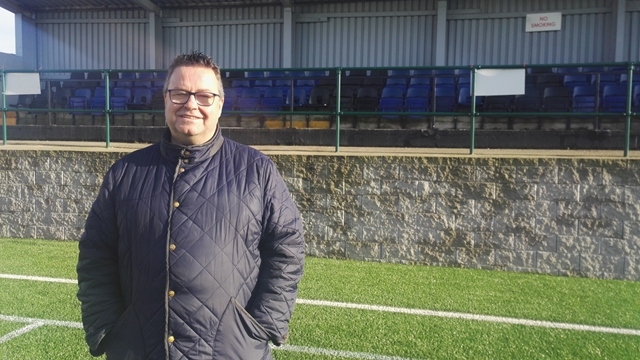 Oldham RL chairman Chris Hamilton
Oldham are looking forward to heading to Betfred Championship side Halifax in the fourth round of the Ladbrokes Challenge Cup over the weekend of March 17 and 18.
The club will confirm the date, kick-off time and prices of admission to this showdown at The Shay as soon as they are finalised.
Scott Naylor's boys gave the blue-and-whites a good run for their money in each of their three clashes at The Shay when Roughyeds were in the Championship in 2016 and 2017.
In regular-season games, Fax won 12-6 in 2016 and 16-14 in 2017, but a little easier in the Championship Shield of 2016, 32-18.
"We went close to winning there last year and we did okay at The Shay generally over the two seasons we were in the Championship," said Oldham chairman Chris Hamilton.
"It's a tough one, obviously because they're a side from the upper end of the Championship, but we'll be going there to have a real go and we'll see what happens.
"It will be a quick return to his former club by Luke Nelmes and I'm sure our three latest signings, Zack McComb, Ben West and Joe Martin, who are all Halifax lads, will be happy about it, too."
Meanwhile, Oldham have confirmed that, as in previous years, the RFL has granted dispensation for Roughyeds to use the Vestacare Stadium in 2018 although it doesn't have the requisite 500 seats.
The club acknowledges the stadium doesn't meet RFL minimum standards in terms of Betfred League 1 seating capacities and says it is grateful to the game's governing body for granting the dispensation.
In reaching its decision the RFL took into account recent investment in the stadium and its subsequent refurbishment.
News of the RFL's green light is another huge tonic for the club in the run-up to the first home league game of 2018 against Hemel Stags on Sunday (3pm).
Roughyeds have bounced back from the bitter disappointment of relegation at the end of last season to retain coach Naylor on a two-year deal; to sign 13 new players in a huge dressing room turnover; to regain the Law Cup with a pre-season win at Rochdale; to win at Whitehaven on the opening day of the league campaign for the first time in 17 years; and to play two games in a row without conceding a point.
After the Stags on Sunday, Roughyeds will eagerly look ahead to the visit on March 11 of York City Knights, another club which seems to be heading in the right direction.
A cracking game is in prospect.