Dashcam taxis to halt rise in cabbie attacks
Reporter: Jacob Metcalf
Date published: 18 November 2016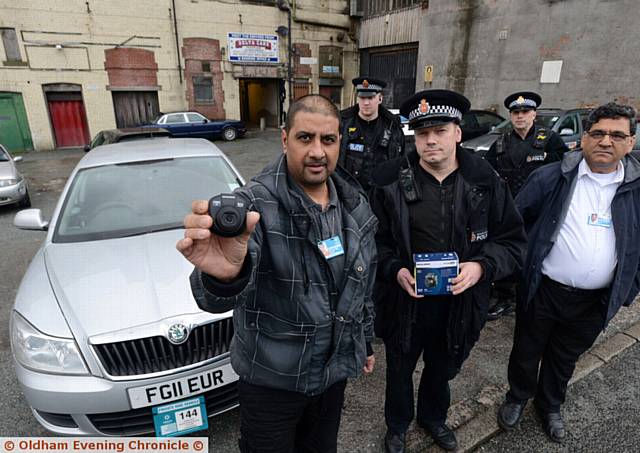 dashcams to Delta drivers (from left) Abdul Qayoom, PC James Billance, Sgt Nick Derbyshire, PC Graham Battye and Nisar Ahmed
AFTER a spate of attacks against taxi drivers in the borough, police have teamed up with Delta Cars to tackle the yobs.

The Neighbourhood Policing Team for Waterhead and St James got together to issue Delta drivers with high definition dash cameras to assist in capturing evidence should they encounter youths who are causing damage to vehicles.

The Chronicle reported on how attacks on taxi drivers have been rife across Oldham in recent weeks with incidents seeing bricks, fireworks, stones and even pumpkins thrown towards their vehicles. Delta are now reluctant to take night-time fares from Moorside, Sholver and Derker.

One frightening incident saw a man wielding a sledgehammer as he obliterated the windscreens and wing mirrors of a group of taxis on Brewerton Road, Oldham.

Amadu Bari (32) of Raleigh Close, Oldham, has since been arrested and charged with criminal damage and possession of an offensive weapon. He is currently on bail and is due to appear at Tameside Magistrates' Court on December 8.