'Boil tap water' for safety - warning
Reporter: KEN BENNETT and ROSALYN RODEN
Date published: 12 December 2016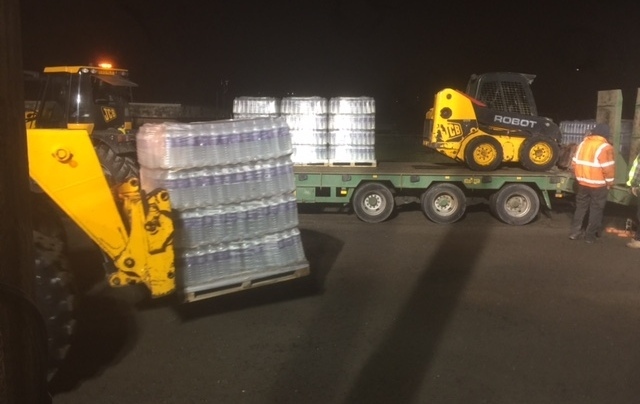 UNITED Utilities staff load water on to lorries at 5am today
UNITED Utilities is urging more than 17,000 residents in Saddleworth villagers and the wider community to boil their water.

And today, announcing a second wave of precautions, the utility giant is informing schools and vulnerable people of the problems and checking on residents in care homes.

United Utilities were delivering bottled water to all educational establishments effected before they opened today,

The alert began at 6am yesterday when United Utilities announced an equipment error at their Buckton Castle water treatment works which supplies part of homes with OL3, OL5 and OL6 postcodes.

Mucky

Householders in Greenfield, Saddleworth and Tameside were advised to boil water for drinking, food preparation and brushing teeth for the next two or three days.

United Utilities said while tap water was suitable for general purposes, including bathing and flushing toilets, residents are advised to wait until cloudy water had cleared before washing clothing.

Resident Joanne Summers said on social media: "My street is affected ­- the water is a lovely shade of mucky. Tesco were doing roaring trade in bottled water earlier today."

Oldham East and Saddleworth Debbie Abrahams MP shared the warning via Twitter and online portals along with Oldham Council.

But some locals say United Utilities should have issued a mass email to customers and toured the affected areas warning of the problems by public address system.

"Not everyone is online and a visit to areas affected by the problem should have happened," said one.

Some aired their grievances on social media. One affected local said she had first heard of the problem from her family out of the area. "There has been no attempt at personal notification," she said ."Surely a mass email could have been sent? And, as I had already cleaned my teeth let's hope it's ok."

Responding, a United Utilities spokesman said: "We walked the streets with our own employees posting communications reaching 10,500 properties on Sunday.

"We have emails, texts and voice-blasted customers where we have the data and information ­- the voice-blast has gone to nearly 8,000 landlines.

"We have plans in place to deliver bottled water to all education establishments before 9am Monday morning so all schools can open as usual."

United Utilities says the "boil water" advice for drinking water will remain in place for at least the next 36 hours.

"Areas affected include parts of Stalybridge, Ashton, Hyde, Dukinfield, Saddleworth and Greenfield ­- a full list of affected areas is on our postcode checker," said a spokesman.

"All schools in the impacted areas will be able to open as normal. The fault at the treatment works is fixed.

"Until we're completed satisfied your water is back to the high standards we expect, please continue to boil your water for drinking until further notice."

Visit unitedutilities.com for more information.