Get the EDGE
Reporter: Robbie MacDonald
Date published: 20 January 2017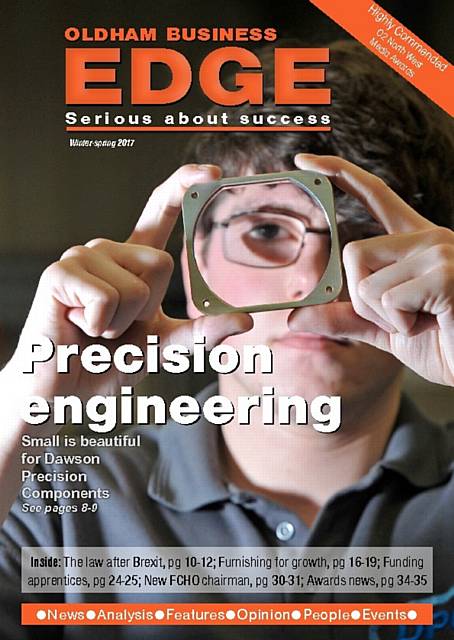 MUST read . . . the new edition of the business magazine
THE new edition of Oldham Business Edge magazine has just been published and is free to subscribers.

The quarterly magazine is produced by the Oldham Evening Chronicle and distributed to business and professional readers, with an increased circulation of 3,000.

Oldham Business Edge highlights the borough as a good place to work, invest and live, and was Highly Commended at the 02 North West Media Awards in the 2016 Magazine of the Year category.

The winter-spring edition's front cover features Dawson Precision Components, a high-tech engineering firm in Shaw which manufactures parts for specialist sectors.

It has invested in new production control software, machining equipment and staff skills, and gives Oldham Business Edge a tour of its new facilities.

The company supplies components for medical, transport, communications, energy and environmental sectors using materials including high-tensile stainless steel, aluminium and carbon fibre.

Investment

In another manufacturing feature, the Edge visits Oldham-based Hills Panel Products (HPP), which has carried out a £2 million investment programme at its site.

HPP makes and distributes kitchen and bedroom furniture for the fitting industry.

It now boasts a new trade showroom, a specially designed warehousing facility and new automated production lines and warehousing systems.

The company explains how the investments will boost the speed, efficiency and accuracy of its manufacturing, storage and despatching, and also let it make a wider range of made-to-measure products.

As the UK prepares to invoke Article 50 of the Lisbon Treaty to start Britain's EU exit, the new magazine includes a round-table discussion on employment law and HR issues after Brexit. The talk is led by Susan Mayall, head of employment law at Pearson Solicitors and Financial Advisers.

Elsewhere the magazine has features on Ryder & Dutton's new homes department, Oldham College's services for employers over the new Apprenticeship Levy, which starts this spring, and a look at business exit strategies with Pearson's corporate and commercial team.

The magazine also highlights Oldham Community Leisure's corporate health and leisure successes, meets First Choice Homes' new non-executive directors' chairman and meets young start-up businesses helped by Oldham Enterprise Trust.

Following the opening of the new Odeon cinema and restaurant development in Oldham town centre, the magazine looks ahead to other key developments with Oldham Council's new director of economy and skills Tom Stannard.

Finally there is a round-up of all the latest social and networking events including activities linked to the 2017 Oldham Business Awards.

To subscribe to Oldham Business Edge, email your name, position and business address to: mariawhitehead@oldham-chronicle.co.uk.

For advertising, call 0161 633 2121 or email advertising@oldham-chronicle.co.uk.