Cara's game skills are out of this word!
Reporter: Rosalyn Roden
Date published: 27 April 2017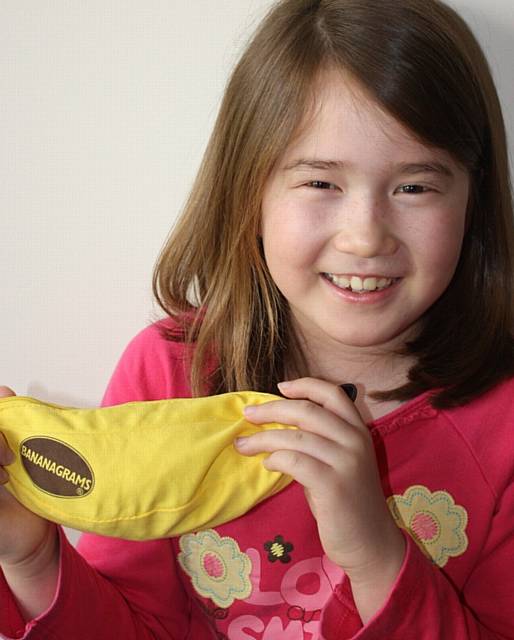 MOSSLEY schoolgirl Cara Dote has been selected for the final of the 2017 Bananagram Challenge
A MOSSLEY schoolgirl has out-worded 50,000 other children to secure her place in a UK Bananagrams final.

The nine-year-old Micklehurst All Saints CofE Primary School pupil used her impressive word skills to land one of 12 places in the Bananagrams Challenge 2017.

Cara Dote proved herself best of the bunch when she defeated her classmates in the first stage of the national tournament earlier this year.

She has since found success in the online rounds of the anagram game securing her a place at London's Magic Circle where she will try for the UK's Top Banana.

Cara said: "I think Bananagrams is amazing and I'm thrilled to have got to the final."

Her teacher Miss Grace Saycell, who ran challenge on behalf of the school, said: "Bananagrams has become the new school craze.

"All the children were fully enthused about the competition and have all supported Cara as 'Best of Bunch'.

"We all wish her lots of success in the grand final."

Around 1,500 schools have taken part in this year's free-to-enter national tournament, now in its third year.

Cara with the other 11 finalists will spend the day at world-famous magicians' club, the Magic Circle, on April 29.

The group will go head-to-head in rounds of Bananagrams, with the overall winner being presented with a trophy and £1,000 for their school.

The final will be hosted by Deek Johnson, author of the Collins Little Book of Bananagrams.

Bananagrams boss Rena Nathanson said: "Each year the Bananagrams Challenge gets bigger and better and I'm delighted that we've been able to encourage 50,000 children to have fun with words.

"I'm really looking forward to meeting Cara and the other finalists.

"The challenge is the result of years of hard work and is something my father and I talked about when we first invented the game back in 2006.

"Bananagrams was partly born out of a desire to help kids play with words, which ultimately enhances their appreciation of language and their grasp of spelling and literacy.

"But more than that, the game is about having fun."

The game was launched to help boost vocabulary and spelling skills in classrooms and after-school clubs. For information visit bananagramschallenge.co.uk.