'Great honour to be 44th mayor'
Reporter: Rosalyn Roden
Date published: 18 May 2017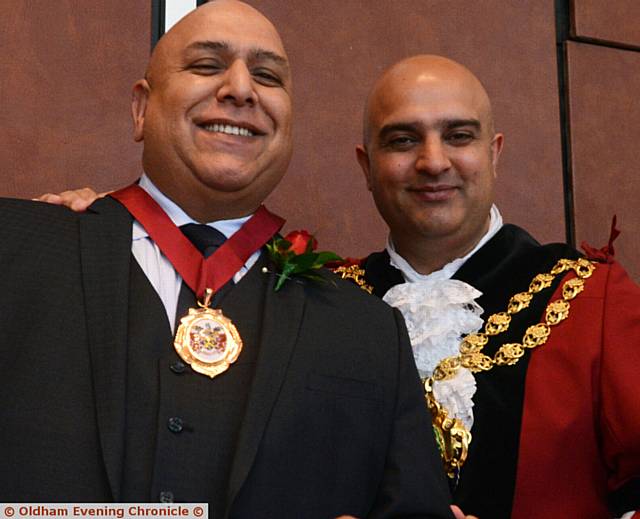 NEW . . . Mayor of Oldham Councillor Shadab Qumer (right) with his Deputy Mayor Councillor Javid Iqbal
A "SUCCESSFUL businessman" from a "politically active" family has unanimously been voted in as the Mayor of Oldham for 2017-18.

More than 200 guests watched as Councillor Shadab Qumer pledged to serve Oldham as he read the Declaration of Acceptance at the annual mayor-making ceremony yesterday.

He was invested with the mayoral chains by outgoing mayor and community stalwart Councillor Derek Heffernan who, along with his mayoress wife Di Heffernan, was praised for dedication to the borough in the face of difficult circumstances.

Councillor Qumer was brought up in the "rough and tough" streets of Glodwick where his father set up his first business as a grocer in 1963, just four years after arriving in the UK from Kashmir, in the Indian subcontinent.

Councillor Qumer said: "My father has always been my inspiration. He has taught me everything I know."

He also praised his mum for "always seeing the good" in him, his wife Sobia Arshi, whom he met through an arranged marriage, and his three children.

One of the first announcements Councillor Qumer made in his new role was that he will have two mayoresses. His wife Sobia Arshi will be mayoress while daughter Fiza Shadab will, on occasion, accompany him.

Councillor Qumer attended Alexandra Primary School before moving to Kaskenmoor. He was previously admitted to Oldham Hulme Grammar School but "complained the school was too posh for him".

He completed his A-levels at Oldham College before securing a place at the University of Leicester.

When he returned to Oldham at the age of 21 he used his experience to set up a carpet and furniture company.

Councillor Riaz Ahmad, who moved the motion to appoint Councillor Qumer as mayor, said: "Councillor Qumer comes from a family which is politically active in Kashmir and it was only a matter of time before he established himself in business and then ventured into politics."

Councillor Qumer thanked the residents of St Mary's ward, where he is councillor, for putting their faith in him. He said: "I would like to thank this council for electing me to be the 44th mayor of this great borough. This is a great honour."

Councillor Qumer has selected Maggie's Oldham, the Ghazali Trust and Action Oldham as his chosen charities for his mayoral year.

The Vice Lord Lieutenant and High Sheriff of Greater Manchester along with the Honorary Freeman and Honorary Alderman joined family members, friends and councillors for the special affair.

The Deputy Mayor is Councillor Javid Iqbal and the new Deputy Mayoress is Tasleem Akhtar.