Grafter earns her victory
Reporter: Iram Ramzan
Date published: 09 June 2017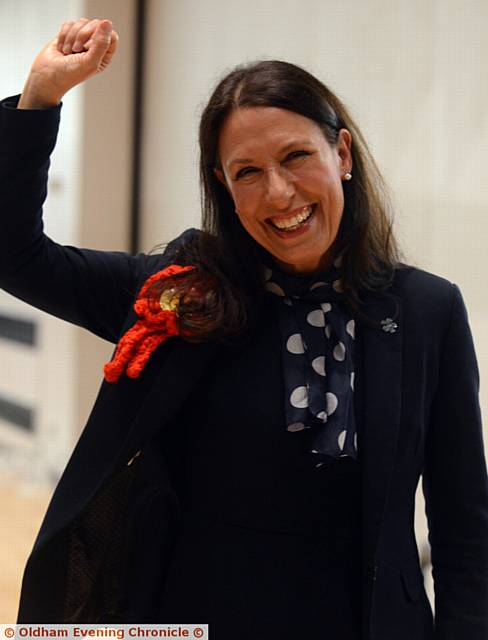 WINNER... Labour's Debbie Abrahams
LABOUR'S Debbie Abrahams was campaigning until the last possible moment. And it paid off as she was re-elected MP for Oldham East and Saddleworth.

The results for the constituency were declared shortly before 3.30am, with Mrs Abrahams receiving 25,629 votes, increasing her majority from 6,002 to 8,182. The turnout was 65.31 per cent, up from 62.29 per cent in the 2015 General Election.

"I'm absolutely delighted, a little bit shocked," Mrs Abrahams said. "It has been remarkable.

"Hopefully, it's been partly about the approach I've taken in the last six years, but also in terms of what we've tried to do with the manifesto and how that's spoken to people about an alternative vision for how we can be a fairer Britain where everybody has a stake and everybody is included.

"What really appealed to people was our approach for education, the opportunity of the early years right through to higher education, and that would appeal to young people.

"But also older people who felt completely let down by the Government around their failure to guarantee the triple lock (pension) and what they were going to do about winter fuel allowance.

"Their absolute arrogance around social care, thinking this was okay, and they were going to say you had to pay for your own care, selling your own house if need be - that really, I think, was a particular turning point, for older people that was just not on."

When asked about the national results for the Labour party, Mrs Abrahams said: "It's unbelievable.

"I haven't taken stock of what this means and what it translates into how many we have overall at the moment, but I will be doing that over the next day or so. I haven't seen an election like this. It's remarkable.

"I pay tribute to Jeremy Corbyn really, in terms of his resilience, his decency. He really has driven this by his real desire to make a difference to society as a whole, a fairer society for all.

Many will now be asking what the results will mean for Brexit and future negotiations.

Mrs Abrahams said: "We had Keir Starmer over here a couple of weeks ago and he was able to explain his approach. He's such a man of incredible intelligence gravitas.

"People felt really confident about what he was saying and how we need to make sure we don't have a hard Brexit, that we do make sure we have a deal. He's already been doing that."

"He understand and knows how to makes these sort of deals. "