Teenage vandals are caught on camera
Reporter: Rosalyn Roden
Date published: 11 July 2017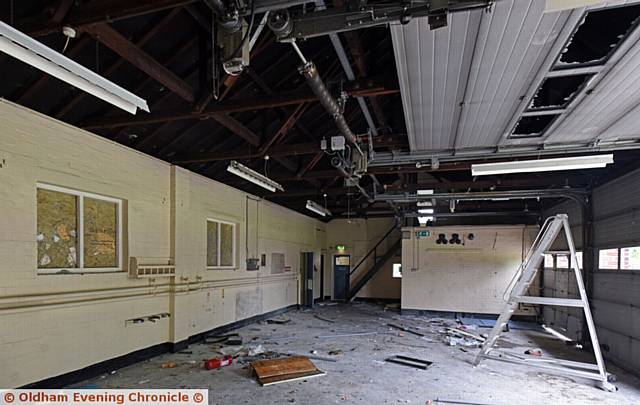 THE vandalised interior of the former Crompton Ambulance station in Shaw
TEENAGERS were caught on camera vandalising the old Crompton Ambulance Station in Shaw.

Video footage which captured the group climbing in and out of an upstairs window and walking precariously on the roof and chimney has been viewed by more than 12,000 residents.

A group of teenage boys are seen jumping from the building, hanging out of a window, jumping on and off the chimney breast and walking along the roof tiles.

The Shaw resident who filmed the vandalism said via Facebook: "The ambulance station in Shaw has been vandalised by a large group of kids.

"They come every day to destroy it. It's so sad. Kids have broken in and destroyed the place, smashing all the windows.

"They were throwing needles as darts, threatening passers by and residents with knives, swinging on live electrical wires.

"Last week someone set fire to the inside."

Another resident shared a photo captioned "youths destroying the old ambulance station in Shaw".

The old station in Moor Street, Shaw, has been the target of vandals for several months after it was closed permanently in 2016.

North West Ambulance Service (NWAS) sold the site two weeks ago but said they were aware of the vandalism and have been trying to let the new owners know.

In 2016, Maddy Edgar of North West Ambulance Service NHS Trust Headquarters, confirmed that the Crompton site was attracting anti-social behaviour and said they were securing the building as well as possible.

At that time the trust's estates programme board decided that ambulance crews would operate from Oldham permanently while the trust considered the sale of the site.

In this latest bout of vandalism, a resident from nearby Seville Street has reported the incident to the police via the 101 service.

She said: "It's so annoying that it could have been secured a week ago but it wasn't. Now it has literally been smashed to pieces.

"I saw them just as they had broken in and told them the police were on their way. A week later and now it's completely smashed to bits."

Dozens of comments were made on social media in response to the video.

Azizul Haque said: "I would put the blame on parents and then the government for closing down youth centres.

"My guess is that some of the kids are from broken families.

"Local government should have some sort of projects to keep kids like these away from this happening."

Resident Julie Dean said: "They do what they want these days and get away with it. Disgusting."