Fight to save valleys from housebuilding
Reporter: Rosalyn Roden
Date published: 26 July 2017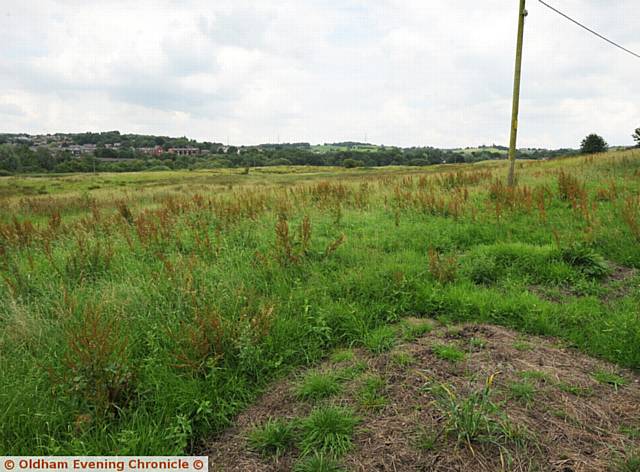 LAND next to Knowls Lane and Thornley Lane, Lees where 265 houses are planned
FEELINGS are running high after the announcement of a 265-property development bordering Springhead, Lees and Grotton.

Objections have already been made to Russell Homes' proposals, which include a new link road between Lees New Road at the junction with Knowls Lane and Ashbrook Road at the junction with Oldham Road.

Residents are crowdfunding £5,000 "to oppose the destruction of Thornley Brook Valley and Ashbrook Valley" which they feel would have a "devastating effect."

Funding would contribute to residents' legal costs, surveys and additional help from experts as they "fight" for the land.

The Save Our Valleys community group said on their JustGiving page: "We believe if this development is allowed it will set a precedent for the wider area and will open up the floodgates to land grabbing and destruction of other green and open spaces across the UK.

"This development will have a devastating effect on the wildlife, including badgers, bats, deer, owls and other birds, a negative impact on noise and air pollution, and the loss of a precious green area for recreation for the community of Lees, Springhead and Grotton.

"Money raised will help fund marketing, legal representation, surveys and all the other expert help we will need to fight this."

The land is currently designated as Other Protected Open Land (OPOL), which aims to preserve the distinctiveness of an area, but an application has been submitted to change this, which could mean the loss of any protected status.

Save Our Valleys said any unused donations will be put back into the community to benefit residents and wildlife in the area.

Resident Joanne Carter who donated £50 said: "I can't believe they want to take away our beautiful valley."

While Catherine Booth who donated £75 said: "We are going to need lots of expert help. If this gets through, the council should hang their heads in shame."

A concerned grandparents said: "My grandchild goes to St Agnes C of E Primary School in Lees.

"My husband and I are greatly concerned about the destruction of the green belt and its effect on school pupils if it goes ahead."

More than 5,000 leaflets are being distributed to properties in the surrounding area to keep residents informed.

A petition has also been set up by Saddleworth Liberal Democrats to save the valleys which were described as "havens for wildlife" and "important recreational areas."

They said collectively: "We've been campaigning for years to take an area of land between Knowls Lane, Lees and Oldham Road, Springhead, into what is designated as OPOL to protect it from development. We are asking residents to register their objection to these plans by signing our petition to save Thornley Brook and Ashbrook."

The group urged objectors to write to planning@oldham.gov.uk or the chief planning officer at Oldham Council with their views.

A public consultation was hosted by developers Russell Homes earlier this month, calling for feedback to be sent via a form by this Friday (28).

Save Our Valleys has organised an Action Group Meeting at Springhead Community Centre next Tuesday to discuss how to oppose the application and change the status of the OPOL land.

Visit http://www.saveourvalleys.co.uk/. To donate visit www.justgiving.com/crowdfunding/saveourvalleyslees.