Disappointed by timing of consultation
Reporter: Lucy Kenderdine
Date published: 01 August 2017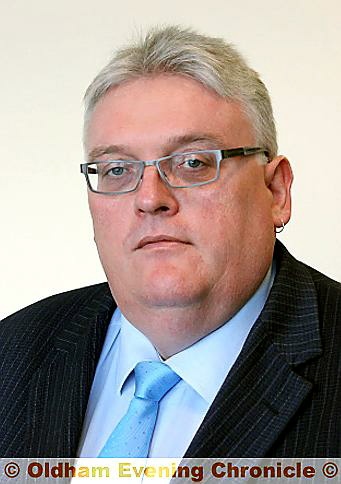 Howard Sykes
THE leader of Oldham's Liberal Democrats Councillor Howard Sykes has expressed "disappointment" that a public consultation on the Oldham Local Plan is taking place during the school summer holidays.

Oldham Council is starting work preparing its Local Plan (LP), a document which helps to guide and manage future growth and development to reflect the needs of the borough and its population.

The LP contains planning policies that will be used as the basis for determining applications and identifies sites where developments should be built as well as areas for protection.

Issues

A variety of issues are covered in the document including housing, the economy, retail, transport and infrastructure as well as the natural environment, Green Belt and open spaces, sports and recreation.

It will also form a complementary part of the Greater Manchester Spatial Framework, which Oldham Council is currently involved with alongside the other nine Greater Manchester local authorities.

The public consultation, which started on July 10 and ends on August 21, invites residents to share their views and opinions on how Oldham should develop in the coming years.

Councillor Sykes, Leader of the Opposition on Oldham Council, said: "The Oldham Local Plan may sound a dry document, but it is in fact the document that will underpin the delivery of new homes and new businesses in our Borough for years to come, and more importantly it will be the key document that will determine what happens locally under the Greater Manchester Spatial Framework.

"Many residents of this Borough, particularly in Shaw, Crompton, Royton and Chadderton, are up in arms about the implications of the Greater Manchester Spatial Framework and they have held rallies at Tandle Hill Country Park and outside Manchester Town Hall in Albert Square to let it be known that they are opposed to development on our precious Green Belt.

"Given the strength of local feeling, it is unacceptable to conduct a public consultation on an issue of such importance in the school holidays.

Residents

"Many residents will be taking families away with them on holiday.

"Responding to this consultation by the 21 August may be far from their minds, but if they feel strongly that they want to save their green belt I would urge them to take time to do so."

He added that the Liberal Democrats have a "clear aspiration" for future housing development in Greater Manchester with his Liberal Democrat colleagues in Shaw and Crompton remain vehemently opposed to plans to build almost 3,000 new homes in the two wards on surrounding Green Belt and other green land.

"Local residents are rightly up in arms, fearing that not only will the current plan mean that their precious Green Belt will be lost forever under a carpet of concrete, but also that the existing medical, school and leisure infrastructure, which is already severely stretched, will be completely swamped with the extra demand.

"Development should be on brownfield sites first, particularly sites with outstanding planning permission, coupled with mill and factory conversions to housing and a drive to bring existing empty homes back into occupancy, whenever this is practicable.

"This view will form the basis of our response to the consultation."

The LP process is currently at an early stage and the local authority will be producing a report setting out the main issues that the plan should be seeking to address and the reasonable options for addressing these.
Councillor Barbara Brownridge, Cabinet Member for Cooperatives and Neighbourhoods, said: "The current consultation, which lasts for six weeks, relates solely to Oldham's Local Plan and at this stage is seeking views about what people think are the key planning issues for Oldham and should therefore be included.

"The comments received will inform the design of the plan and the next stage of the consultation will set out the main issues that should be considered and options for addressing these.

"Whilst the initial phase runs from 10 July to 21 August 2017, it is important to stress that this is the start of an on-going conversation. There will be continuous engagement as the Local Plan is prepared.

"Without an up-to-date plan in place there is a risk that the council will not be able to refuse development applications it considers to be inappropriate, including on open spaces and greenfield sites.

"It is, therefore, essential that we continue to have an up to date Local Plan."

Comments for the Local Plan can be submitted online or by posting comments to Strategic Planning and Information, Economy, Skills and Neighbourhoods, Room 310, Level 3, Civic Centre, West Street, Oldham OL1 1UH.

To comment online visit http://oldham-consult.limehouse.co.uk/portal/oc/planning/spi/ or send an email to spi@oldham.gov.uk

Comments cannot be treated as confidential with all comments held by the Council and will be available to view publicly.