System to improve safety during labour
Reporter: Rosalyn Roden
Date published: 09 August 2017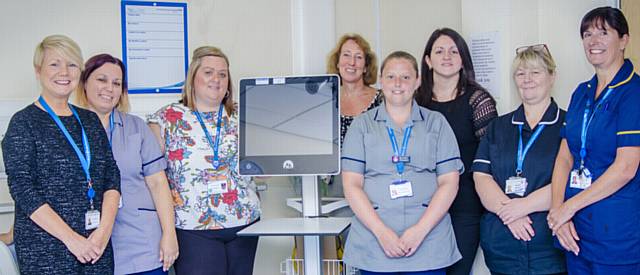 READY to use the new heart monitoring system, from left , Deborah Carter, Wendy Knight, Lorraine Brady, Caroline Rice, Priscilla Poole, Lindsey Oliver, Belinda Jackson and Helen Howard
A NEW system costing more than £300,000 has been installed on two hospital maternity units to improve safety during labour.

The electronic fetal heart monitor, which has been introduced at the Royal Oldham Hospital and North Manchester General Hospital, will track babies' heart rates during their mother's labour period.

The K2 medical system is designed to support the management of women with high risk pregnancies during their labour, and has the ability to digitally archive data.

Monitoring heart rates will reveal how well the baby is coping during labour and highlight whether they are encountering any problems which may result in staff intervention or delivery by caesarean section.

There are 14 computer portals running the programme in each labour unit, with results showing up on a central screen in the ward office.

The new equipment is part of a wider programme of improving outcomes and safety for women and children.

Development

K2 admin midwife at The Royal Oldham Hospital, Priscilla Poole, said: "We are all very excited about the introduction and future development of this new system.

"It will help towards improving outcomes due to increased surveillance of the fetal heart rate via the central station, also enabling the multidisciplinary team to view the fetal heart rate remotely. This will provide extra reassurance for women and their families."

External monitoring will involve two sensors being held in place with elastic belts on the mother's abdomen, with one sensor using ultrasound to check the baby's heart rate, and the other measuring the frequency and length of the mother's contractions.

Internal fetal monitoring will involve attaching a sensor to the mother's thigh from which a thin wire, or electrode, will be put through her cervix into her uterus where it will be attached to the baby's scalp to monitor its heartbeat.

Extensive training has been provided on the system, and each site has been given a dedicated K2 midwife who is responsible for training all staff.

Monitoring

Divisional director for the women and children's division Deborah Carter said: "Misinterpretation of the fetal heart rate trace (CTG) is a common feature in labour care throughout the world.

"The aim of switching to an e-CTG monitoring and archiving system is to reduce harm by making it easier for staff to interpret CTGs.

"This will lead to appropriate and timely intervention where necessary."

Previously, staff used monitors at the bedside and took a paper recording of the heart rate trace, but the K2 system will provide an electronic recording at the bedside as well as electronically archiving the baby's heart rate trace replacing the need for making paper-based notes during labour.

Consultant in obstetrics and gynaecology Caroline Rice, who is the clinical lead for the K2 system, said: "This new fetal heart rate monitoring system will provide our families and staff with additional support during labour.

"We are eager to start using the system."