All for the sake of £1 (and a holdall with balloons)
Reporter: Rosalyn Roden
Date published: 10 August 2017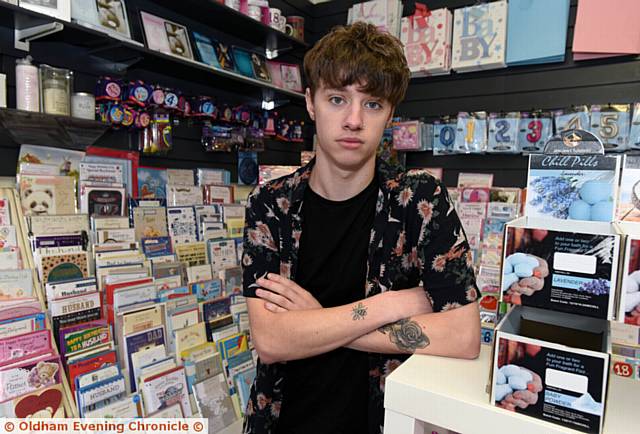 BREAK-IN victim . . . The Little Gift owner Lewis Garrity
IN a "laughable" break-in thieves raided a Failsworth gift shop for one hour and made off with a measly £1.

CCTV footage captured a man ambling at the front of The Little Gift in the early hours of the morning.

The burglary, the second at the shop in two weeks, saw the offender force entry before making off with a holdall full of balloons and a £1 coin.

The Chronicle reported that the shop in Ashton Road East was raided just over one week ago by lawbreakers who battered the door down and stole the shop's Marie Curie charity box.

Owner Lewis Garrity had to close the shop on Tuesday while forensics took fingerprints at the scene after the raid between 2.45 and 3.45am that morning.

A message posted on The Little Gift site said: "The shop will be closed until further notice due to yet another break in. Sorry for any inconvenience."

Lewis said: "CCTV from the jewellers' over the road showed the man just hanging around for an hour.

"It is laughable. He has scoped the place out for a good hour but only got away with a cheap holdall and £1.

"He took the holdall, realised there was only some balloons in there and emptied it on the floor.

"After the first time this happened we made sure there was nothing of any value left in the shop."

He added: "I hope the one hour of scoping was worth the whole £1 he stole."

A friend of the owner urged Lewis to tighten security after the shop was targeted for a second time in two weeks.

While another resident said: "Sorry to hear that you have been broken into again.... nightmare."

The Little Gift featured in the Chronicle in May this year after fundraising more than £300 for victims of the Manchester attack.

It joined several Failsworth shops in flying pink balloons to show their unity following the Arena bombing on May 22.

In efforts to source the offender who has targeted the shop, police have shared photos of stock such as curling ribbons and packets of balloons which had been dumped across the road when the thief emptied the bag.