Blooming marvellous for winners
Reporter: Rosalyn Roden
Date published: 10 August 2017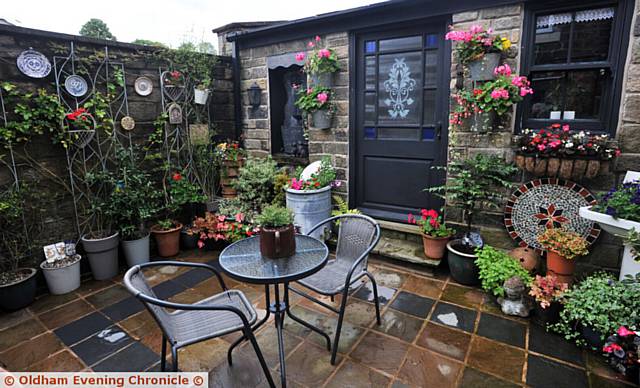 WINNER . . . Maria Fenlon's entry from Greenfield, won the Container Garden category
JUDGES were bowled over by the array of colour on display at this year's annual Saddleworth in Bloom competition.

The winners proudly showcased the fruits of their green-fingered work to a panel of three judges.

Today, four of the seven winners will be announced by the Chronicle, following an anxious three weeks since moderating took place.

Two public houses have secured joint first position for the Best Blooming Pub category.

The White Lion in Delph and the Royal George in Greenfield are reaping the rewards of their hard work.

Darcy Hobson, waitress at the Royal George, said: "Our gardener Tommy Morrell has dedicated hours of his time to this.

"The idea developed when landlord Jason Worthington decided to dedicate 22 individual plant pots to the victims of the Manchester Arena terror attack. It grew from there. Tommy is retired and has been helping Jason for weeks."

Marigolds, pansies and petunias were all in flower as the two beer gardens showcased their blooms.

Judges were impressed with the display on show at the White Lion where staff had created a "landlord's shed" with striking purple and yellow paintwork to set off the plants.

Landlady Marie Phillips said: "I was really pleased we won because this is the second year running.

"I do all the gardening myself because we don't have the money to employ a gardener.

"We have quirky things like tomatoes in our hanging baskets and strawberries on the tables.

"We are lucky that our car park is a sun trap so things seem to grow well."

Memorial

The White Lion also had a memorial garden wall featuring the Manchester bee and pink ribbons to remember victims of the attack.

Winner of the Container Garden category was Maria Fenlon, from Greenfield, who potted up dozens of flowers in a variety of pots, tubs and baskets.

She said: "I was very pleased to find out I had won. It was a really last-minute decision to enter and I didn't think I would win, so it was a bit of a shock.

"I'm not really a gardener. I buy plants I like and keep them in containers because I don't have any ground to plant them in.

"I spend a lot of time outside in the nice weather, but my gardening is seasonal."

The winners of the Community Garden went to residents of Outram Mews in Uppermill, who had combined their gardening efforts to create a complementary ensemble of blooms. Geraniums, petunias and begonias as well as evergreens were among the garden goods for judges to feast their eyes on.

Each house on the estate had taken responsibility for their own pots, hanging baskets and small bedding areas to create the overall effect.

This year's judges included Parish Council chairman Councillor Nikki Kirkham, vice-chairman Councillor Rob Knotts and the clerk to the council Pamela Bailey, and the judging took place on July 18.