Bridal role for chair of the council
Reporter: Ken Bennett
Date published: 30 August 2017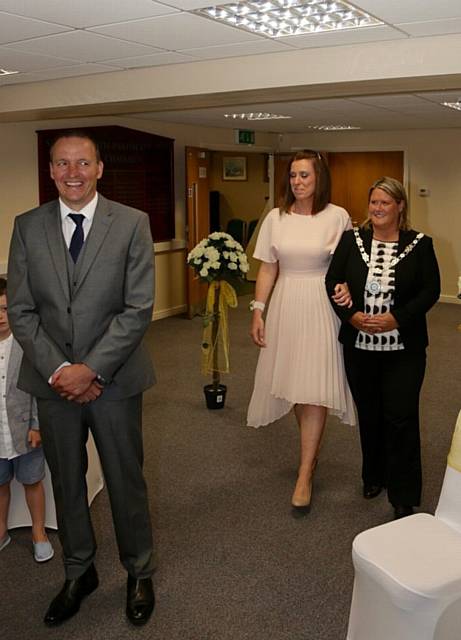 BRIDE-to-be Lisa Wroe is given away by Saddleworth parish council chairman Nicola Kirkham
EFFERVESCENT Nicola Kirkham has had a hectic year with official engagements since she became chair of Saddleworth parish council.

But she never expected to be "collared" by the long arm of the law when she dropped into Uppermill civic hall on council business.

Because bride-to-be police inspector Lisa Wroe asked the surprised councillor to walk her into her wedding ceremony.

Said Nicola: "The council clerk had primed me the couple may need a witness for their civic ceremony, but on my arrival I discovered that had been sorted.

"But Lisa asked if I would walk her into the room for the ceremony itself. So I donned my chain of office and was proud and honoured to accept."

She added: "It's the first time a serving chair of the parish council has been asked to take part in this kind of ceremony - which made it an even more delightful invitation."

Speaking after her wedding to David Clegg, Lisa, an inspector at Sedgley Park training school, said: "We wanted a very relaxed wedding.

"There was just Dave and I, our five-year-old, Andrew and Dave's two boys, Paul and James, and Paul's girlfriend, Imogen.

"When we arrived we met the staff and Nikki introduced herself and asked if she could take some photographs. We had our friend with us who is a photographer, but said it was fine.

"It was so relaxed and everyone commented on this," she declared. "When the Registrar asked me to walk in to begin the ceremony I asked if there was anyone to walk me in - and Nikki immediately volunteered.

"She put her ceremonial chain on for the walk. It was so lovely, it felt very natural and Nikki told me she was honoured to do it.

"She then handed me over to David, my husband-to-be, and we went through the service. Afterwards everyone congratulated us and after photographs, we went to the Diggle Hotel for food.

"We were honoured to have Nikki at our wedding and it was a very impromptu and spontaneous meeting that will have a lasting memory for us - thanks Nikki!"