Cancer sufferer on road to recovery
Reporter: Lucy Kenderdine
Date published: 30 August 2017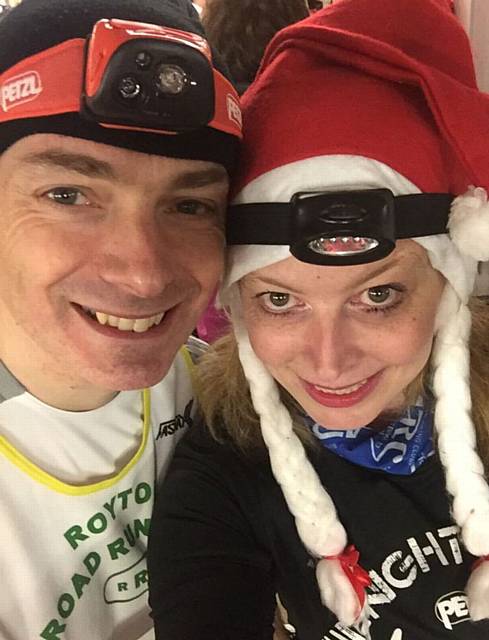 TOGETHER every step of the way . . . Garry and Bernadette
WHEN Bernadette Burston first felt a lump in her breast while training for the Oldham 10K, she put it down to wearing the wrong bra.

But after completing the race on June 18, she began to feel unwell. After further discomfort, she decided to see her GP.

A visit to the Victoria Breast Care Clinic at the Royal Oldham Hospital for a mammogram, ultrasound and biopsies of lumps, confirmed her worst fears as the 42-year-old was diagnosed with inflammatory breast cancer.

Bernadette, a self-employed designer of furniture and cushions has already started four months of chemotherapy, with a session planned for every three weeks, before surgery, followed possibly by radiotherapy.

The mother-of-three said: "The whole thing has been a shock. I'm still coming to terms with it, but now the treatment has started, I feel like at last the fight is on and we are on the road to beating it.

Lucky

"After just one treatment I can physically feel the difference. The inflammation in my breast has started to go down and the itching and burning has eased.

"My hair has now started to fall out and I am moulting all over the house, but the two wigs I have are beautiful and people don't even realise they are wigs when I wear them.

"People who I've known for years don't even recognise me."

She added that she feels lucky to have been supported by her family during this period, particularly her partner of two years Garry Bower.

Regular runner Garry (47), run leader at Royton Road Runners and part of the core team at Oldham Parkrun, already had a place for the 13-mile Great North Run in Newcastle on September 10, but after Bernadette's diagnosis, he had a cause to run for.

Garry, a senior manufacturing engineer, said: "It just seemed logical that we should use this high profile event to raise some money for the Victoria Breast Care clinic and hopefully awareness of breast cancer and the need for women to check themselves on a regular basis. All our friends have said they are all checking themselves now.

Laugh

"I have run many distances, including running my first marathon in April this year in Manchester.

"I normally don't put pressure on myself to raise money against a particular run, but do it over a target number of miles or races. In 2014 I ran 100 miles every month for the year.

"Bernadette is so supportive of my running and I am lucky to have met her. She joins me at almost every race I enter and she has also run a few of them too.

"I secretly believe she enjoys the ones that include a coach trip with the rest of the Royton Road Runners as they are always a good laugh and a lot of fun."

Bernadette has also continued to run following the diagnosis, completing the Oldham Parkrun every Saturday after health professionals confirmed that looking after herself and keeping fit is the best thing she can do to beat the cancer.

Brilliant

Inflammatory breast cancer is a very rare form of cancer and Bernadette, from Rochdale, is keen to raise awareness and encourage other women to ensure any changes in their breasts get checked out.

She said: "Garry has been by my side every step of the way and even moved in the day I got diagnosed and never went home again, even though we weren't planning on living together for at least another 12 months.

"He has held my hand for almost every treatment and I couldn't have got through the biopsies, bone and MRI scans without him.

"He has been my absolute rock and is always making me laugh."

Garry has Crohn's Disease and runs to help keep his condition in check.

He said: "Although Bernadette is the one suffering the cancer, my friends and family have been brilliant ­- constantly asking me how I am too.

"At times I have struggled but, with the support network we have I know we are both going to get through this and I am going to have a long and happy life with Bernadette.

"We are praying that in 12 months' time we will be able to move on with our lives together and put this hiccup behind us."

The couple have set a target of £2,500 to raise for the charity and have already raised nearly £1,000 towards their goal.

To donation to their cause visit www.justgiving.com/bowergnr.