Park strife: Playground for vandals
Reporter: Iram Ramzan
Date published: 31 August 2017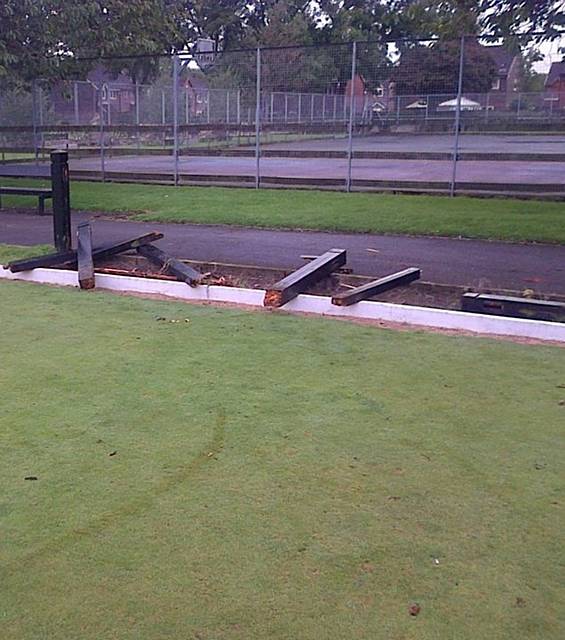 VANDALISM at Higher Memorial Park, Failsworth Pictures: FACEBOOK
GANGS of rampaging youths have vandalised two Oldham parks on consecutive nights.

The drama unfolded when the bowling green was damaged and clubhouse broken into at Higher Memorial Park in Failsworth - first on Monday then again on Tuesday night.

Chadderton Hall Park was also vandalised on Tuesday night.

Yobs broke through the office, smashed a computer monitor and stole snooker cues. Fencing around the tennis court was ripped down and a large hole dug into the bowling green.

There was a second break-in the following night ­- this time from the other side of the wooden hut. More snooker cues were taken along with some darts. Thugs also vandalised the outside toilet, smashing the mirror and sink. The toilet has since been secured and is not fit for use.

Malcolm Talbot, treasurer of Higher Failsworth Bowling Club, said: "Police phoned us on Tuesday night. One of our lads came in to check everything. Somebody had been playing golf on the bowling green.

"There's nothing of actual value in the club apart from the cues. I was just shocked when I came in to see this. It's unfortunate."

One dog walker, who didn't want to be named, said he once had a confrontation with a gang of youths, aged around 14 or 15.

"If you come in the park on a Monday morning you'll see the vandalism," the man said. "There's bottles and litter about. You can't say anything to the teenagers because you'll get abuse. There's gangs of them around on bikes.

"One of them went towards my dog on his bike and was putting his brakes on at the last minute. I told one of them off and he gave me a lot of abuse.

"It's a shame because they're always putting money in to this park, it's a well-kept park and then you get all this.

"It's de-moralising for the park keeper, having to come in first thing and see all this."

Another dog walker, who also preferred to remain anonymous, witnessed the anti-social behaviour on Monday night.

"I saw about 15 lads pulling the fencing up against the tennis court," the woman said.

"They were throwing it about when I came yesterday. New bushes were planted this year and they keep pulling up the plants. The park keeper must dread coming here.

"I don't know where they're from. There's a couple of younger ones who I think are local. They congregate in the park at night. They make a lot of noise."

Meanwhil,e at Chadderton Hall Park, railings were destroyed and posts and benches set alight in the children's play area.

The mess at both sites was quickly cleared away and families and dog walkers were still able to come out and enjoy the outdoors.

Don and Lillian Bardsley come up to Chadderton Hall Park every day from Bardsley Vale to walk their dog.

They said they had noticed anti-social behaviour from teenage boys since the start of the summer holidays.

Don (77) said: "It was alright when we came yesterday, this must have happened overnight. We don't see them everyday. They congregate around the shelter, smoking."

Lillian (75) added: "You get hooligans around here, around 14-years-old. They try wheelies on their bikes. They're just horrible kids. What do they want to go in the playground for? They're just spoiling it for the children."

A spokesman from Greater Manchester Police said: "We were called to Higher Memorial Park on Monday at 8.35pm to reports of a burglary. There have been no arrests.

"We were called out at 8pm on Tuesday to reports of a burglary. Officers attended but the offenders made off prior to police attendance.

"We were called shortly before 10pm to Chadderton Hall Park on Tuesday to reports of a fire. Two park benches had been set alight and the fire brigade attended."

Anyone with information should call 101.