Cricket club hit by arson attack
Reporter: RICHARD HOOTON
Date published: 20 March 2009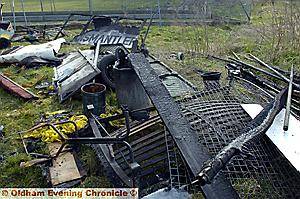 WRECKAGE . . . equipment valued at £5,000 was destroyed
Equipment lost as vandals target ground once more

ROYTON Cricket Club officials have been left dismayed after arsonists burned down a storage unit containing around £5,000 of equipment.

Firefighters spent an hour tackling the blaze at the Bransdale Avenue ground at 7.45pm on Wednesday.

Police are investigating the latest attack at the venue, which has suffered years of vandalism. It is believed someone broke in and used an accelerant to start the fire.

The groundsman's equipment has been lost along with bowling cradles, covers and sponsor's signs.

While the setback won't affect the club's start to the season, it could hamper a scheme to teach children to play cricket. The 138-year-old club caters for many youngsters, ranging from under-sevens to under-18s.

Vice-chairman Jim Young said: "It's just written off, a complete mess. It could have been very dangerous. We have lost some machinerye.

"It's the first fire we have had in many a year but the vandals never stop. If they are not attacking us it's someone else. I feel very annoyed. It's just an ongoing circle.

"We were in a terrible situation three years ago with filthy graffiti. They used to climb over the wall, hit the drugs and cheap alcohol and smash the bottles on the bowling green."

Mr Young has seen parents drop off children with bags of booze near the ground.

He added: "It's absolutely disgusting. I have confronted the parents, as have the police, and they could not care less. There are some young kids that will die very young with all the drink and drugs they are consuming. There are 10, 11, 12-year-olds running around at midnight till 2am. Where are the parents?

"It won't knock us back. We have a good arrangement and will borrow off other clubs in the Central Lancashire League. No one will see anyone miss out."

Chairman Tony Spence said: "We are absolutely sick of it. It was quite a blaze when it went up. This is the first attack we have had for a while. It's been relatively calm over the last few months but now it's resumed again.

We have had police cover but resources are stretched and we are not a priority.

"It's not affecting the start of the season but eats into money that should be spent on the junior section. Part of our money has gone up in smoke. Now we have to find extra funding. We are looking for extra sponsorship or finance to help us out at this bleak time."
Anyone who can help can call Mr Spence on 07976-300220.

A year ago, the club turned to the community in a bid to crackdown on the vandalism by circulating a leaflet to 200 houses in the hope that residents could identify the culprits after benches had been smashed, fencing destroyed and graffiti scrawled.

The club recently spent several thousand pounds to erect a wire fence around the bowling green to protect it from vandals, but fencing off the entire ground would cost hundreds of thousands.

However, it is planning to put steel shutters on the steps to the main pavilion to keep it secure.