Celebration of teaching and understanding
Reporter: Janice Barker
Date published: 26 March 2009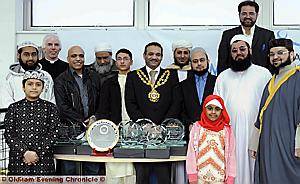 The Mayor Shoab Akhtar presents Awards at the Honeywell Centre, Hathershaw
A NEW set of awards for Oldham's mosques and madrassas have been presented.

The Achievement Awards are organised by Oldham Mosques Council, which represents the 35 madrassas, or Islamic schools, in Oldham and attracted 150 people including the Mayor of Oldham, Councillor Shoab Akhtar.

The mosques and madrassas teach around 3,000 young Oldham people every evening, and the mosques are used by around 30,000 local people.

Judges from Bolton, Bradford and Nelson chose winners for best practices in teaching, best student, model mosque, and the best achieving mosques or madrassas for promoting understanding between communities, participation in the wider community, development work and voluntary work.The overall winner was Nusrat-Ul-Islam Mosque and Education Centre in Pitt Street, Oldham, for running a model mosque that demonstrates excellence in management of the organisation, its activities and helping and supporting volunteers.

President Mohammed Tufail said: "We are delighted that our work has been recognised, especially the element of our work involving women in our activities."

The winner of the wider community participation was Oldham Muslim Centre, the newly opened centre based on Neville Street, Chadderton.

Spokesman Nanu Miah said: "I am very pleased that the work of our organisation has been recognised.

Support

"I would like to thank everyone involved with the Oldham Mosque Council for their hard work.

"However, most importantly, I would like to thank the people of Oldham for supporting our work of building stronger communities in the borough."

Best student was Mohammed Ahves from Madina Jamia Mosque in Waterloo Street; best teacher was Hafiz Afzal Khan, of the Madina Islamic Centre, Clydesdale Street.

Best volunteer award went to Junaid Khan from Compass Learning Centre, West Street, all Oldham.

Mufti Helal, the development worker of the Oldham Mosques Council, said: "I am very happy with the support that was given to me by the members of the council in organising the event. Individuals in these institutions do tremendous work and this was a great opportunity to recognise and showcase some of that work."

The council also presented a shield to Father Phil Sumner, of St Patrick's RC Church Oldham, executive officer of the Oldham Interfaith Forum, to recognise the partnership.
The presentation took place at the Honeywell Centre in Ashton Road, Oldham.