Improving the plot
Date published: 30 March 2009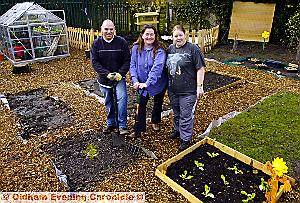 Volunteers Andrew Drury, Stephanie Wilde and Md Mariea Maguire
AN AREA of wasteland at an Oldham school has been transformed into an oasis of natural splendour — thanks to a bunch of green-fingered volunteers.

The Alt Primary School Community Garden Project has created a thriving beauty spot in only a matter of months — and inspired school children to grow their own plants and vegetables at home.

Project chairman Stephanie Wilde kickstarted the initiative after she volunteered to tend and water the plants in the school grounds.

She said: "It was just rough grass but I thought the area of wasteland had a lot of potential.

Thrilled

"It looks amazing now. It's gorgeous. The school is absolutely thrilled with it."

Stephanie got lottery funding through the Digging For Health scheme, which funds projects for people to grow their own vegetables, and undertook a course in setting up a community project.

She arranged a taster session at the school last November and the community garden project was formed with eight people getting stuck into the work.

Stephanie said: "We've been fundraising ever since then and completely transformed this area of wasteland into a productive site to grow things.

"The children absolutely love it and have written letters to thank us for the garden.

"The project does seem to have inspired the children to grow their own vegetables at home."

It features a greenhouse, a wildlife area with a pond, a seating area, fruit trees, 20 flat beds, 19 different vegetables and an area for herbs.

Headteacher Jackie Greenhalgh recently planted an apple tree in the garden.

Mariea Maguire, Andrew Drury, Martine Maguire and Lisa Lawrence, in particular, helped Stephanie create the tranquil spot. Holroyd Skip Hire donated a large skip free of charge and quickly unloaded and collected it, while Limb to Limb Tree Services donated 10 tonnes of bark for pathways and is creating stepping stones and log seats.

Money has been raised through Christmas and Easter raffles and a sunflower competition where pupils planted their own flowers.

The group is open to anyone in the community joining as new members and is particularly looking for an electrician to help wire a pond pump.

Anyone interested can call the school on 0161 770 3154.