Author Trevor's trip back in time
Date published: 08 March 2010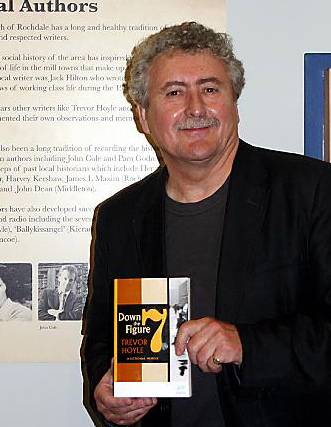 TREVOR HOYLE: new book out next month
LOCAL author Trevor Hoyle is asking readers to take a trip back in time to the black-and-white 1950s in his new novel.

"Down the Figure 7" tells of a gang of lads growing up in Lancashire, raiding other gangs for 'bommie' wood and discovering the thrill of their first fumbling encounter behind the garages.

Trevor, from Newhey, has used memories from his own youth and set it in a northern cotton town struggling to emerge from a decade of shortages and make-do-and-mend.

Gangs of feral youths, inflamed by the exploits of Hollywood tough guys and the tales of dads and uncles who served in the forces, are still fighting the war in the bits of wasteland between the streets and houses.

He says it is packed with nostalgic images, and will bring to life those golden and innocent days after the Second World War.

He said: "It comes out on April 15. It's set in the 1950s and tells the story of a working-class lad growing up in a northern cotton town, though there's a darker, grittier edge to it too."

Trevor was an actor in his youth at Oldham Coliseum and appeared in one of the first episodes of Coronation Street.

After working as an advertising copywriter in Manchester, he wrote and presented an arts programme for Granada TV before handing over to Tony Wilson.

Since the mid-1970s he has published several novels, and his previous work "The Last Gasp" — a doomsday vision of the world running out of oxygen — is under option to a Hollywood production company.

He has also written for BBC Radio 4, and won a Radio Times Drama Award

The book is published by Pomona (www.pomonauk.com).